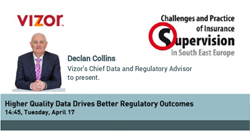 DUBLIN (PRWEB) April 09, 2018
Vizor, the world leader in supervisory software for Insurance Regulators and Central Banks, today announced that Vizor's Chief Data and Regulatory Advisor, Declan Collins, will be a featured speaker at the "Challenges and Practice of Insurance Supervision in South East Europe Conference" in Zagreb, Croatia, April 17th, 2018.
The annual conference, organised by the Institute for Insurance has proven through its four editions to be a unique forum for an open dialogue between insurance companies and insurance supervisory authorities of the South East European region.
Presentation: Higher Quality Data Drives Better Regulatory Outcomes
This conference presentation will review the regulatory information supply chain, current Solvency II data quality and the cost of poor quality data. It will show how quality at source leads to improved efficiency. Declan Collins will share thought-provoking observations on current data quality practices and provide powerful recommendations on best practice.
The presentation will draw on 30 years of experience in the Central Bank of Ireland, recent Masters research, current work with Vizor and up-to-date practice in the data business domain.
When: 14:45 ,Tuesday, April 17
Where: The Westin Zagreb Hotel, Zagreb, Croatia
About Declan Collins
Declan Collins is the Chief Data and Regulatory Advisor for Vizor, providing thought leadership in the data and regulatory fields to ensure Vizor Software is both current and forward-looking. Before joining Vizor, Declan worked in the Central Bank of Ireland for thirty years and led the development of the Banks regulatory data collection and analysis systems. He was also the Vice Chair of the IT and Data Committee (ITDC) at EIOPA.
About Vizor
Vizor Software is the global leader in enterprise supervisory solutions for Financial Regulators. We help Financial Regulators protect and enhance the stability of the financial system. Vizor is trusted by Central Banks and Financial Regulators in more than 25 countries for the collection, validation and analysis of highly complex data from financial institutions. Vizor Software is an integrated data collection and supervisory system that is based on best-in-class supervisory models but flexible enough to deal with regulator specific needs. You can learn more at vizorsoftware.com or by following Vizor on Twitter, LinkedIn, Google+.