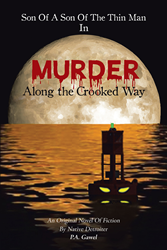 MEADVILLE, Pa. (PRWEB) April 13, 2018
P. A, Gawel's "Son of a Son of the Thin Man in Murder Along the Crooked Way": is a stimulating work intermingling twists with that of Nick and Laura as they go into battle to recover a portion of the Nick's inherited millions embezzled by Ferguson Malarkey, his deceased accountant, in Murder by Proxy. Along the crooked way they rekindle their camaraderie with Doc to serve a healthy dose of justice to the bad guys responsible for murder, mayhem and an unforgettable mystery that takes the reader in many places along the Great Lakes from Detroit to Canadian waters. Murder Alongthe Crooked Way, starts in Detroit and travels throughout the Waweatunong, or Crooked Way of Michigan and Canadian waters. Waweatunong is a Native American term for the connected waterway that includes Lake Erie, the Detroit River, Lake St. Clair, the St. Clair River, and Lake Huron. To look at it from outer space would certainly give the appearance of a crooked way. Nicholas Charles III, the once filthy-rich man, then poor man and currently attempting to get back to rich man status from California and Laura Stackhouse, his native-Detroiter fiancé and former hooker are finally engaged to married. The pending nuptials and recent changes in their living arrangements opened the door for our protagonists to spend more time together delving into the criminal element lurking in and around the Great Lakes.
After a court battle to recover a portion of his inherited millions that was embezzled by his deceased accountant, Ferguson Malarkey, Nick and his bride-to-be make their first joint purchase. Of all the possibilities open to them, they bought a boat and sail directly into the path of abduction, drug trafficking, and murder on the high seas. In the midst of murder and mayhem, Doc went his way and the newlyweds went theirs. Doc inadvertently crosses paths with the just married, Mr. and Mrs. Charles and rekindles their earlier camaraderie in pursuit of the killer(s). The three sleuths and their crew blaze a trail through Michigan's water winter wonderland in an attempt to bring the murderers to justice.
Returning crewmates from the Civil War era, Mackie and Cleophus get in on the action with their newly discovered hide and go seek type approach to their existence. From their ghostly past, the two former slaves returned to life in Murder by Proxy, one year earlier. Their adventures along the Crooked Way with their newly acquired post-Civil War shipmates give them an opportunity to fight crime when they are alive, then return to their ghostly state and do the same. As not-so-typical ghosts, they're able to see things as no one else can and go where no man has gone before. A renewed Native American connection with Laura's distant past adds to the Charles' cultural repertoire and provides a few curious twists and turns as well. Old friends reunite as allies in the fight against the sinister goings on throughout the Crooked Way.
Who will be the hero? Who will betray the home team? Are Nick and Laura's newfound friends who they appear to be? What is the MacGuffin? Why the Great Lakes? Who did it? Only a read inside Murder Along the Crooked Way will satisfy readers' desire for the answers to this complex who done it.
View a synopsis of "Son of a Son of the Thin Man in Murder Along the Crooked Way" on YouTube.
Consumers can purchase"Son of a Son of the Thin Man in Murder Along the Crooked Way" at traditional brick & mortar bookstores, or online at Amazon.com, Apple iTunes
store, or Barnes and Noble.
For additional information or inquiries about "Son of a Son of the Thin Man in Murder Along the Crooked Way", contact the Christian Faith Publishing media department at 866-554-0919.