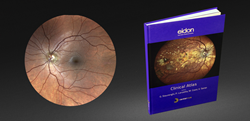 HARLOW, England (PRWEB UK) 6 April 2018
Any eye care professional who visits the HS-UK stand and requests a demonstration of the Eidon will receive a FREE retinal scan and a FREE copy of CenterVue's 'Clinical Atlas'. The 'Clinical Atlas' is a 96 page hardcover book featuring a series of interesting clinical cases, collected by retina specialists, that shows examples of the Eidon's superior imaging capabilities.
The Eidon boasts fully-automated high-quality, wide-field, true colour confocal imaging using white light to capture the retina through small pupils and media opacities.
Traditional retinal cameras use a 45° view, and may leave some pathology unseen and undocumented. The Eidon's 60-150° high-resolution, wide-field view enables the user to image and document more pathologies. It also provides three different imaging modalities (true colour, infrared and red-free), a unique confocal view of the retina and dilation-free operation. It is also available with added autofluorescence capability.
The Eidon will be available to purchase from just £18,995* on the HS-UK stand for the duration of the Optrafair 2018 show.
In addition, HS-UK will be hosting a number of on-stand clinical education seminars and workshops. Session topics include; 'True Colour & Infrared Confocal Wide-field Imaging', 'Glaucoma Function & Structure' and the 'Slit Lamp Masterclass' . Attendees are eligible to receive 2 CET Points for each course. Visit http://www.optrafair.co.uk/education/on-stand-cet for more information.
Optrafair 2018 will be held at the Birmingham NEC on Sat 14th to Mon 16th April 2018. HS-UK will be exhibiting on stand F32.
*Available on stand F32 for a strictly limited period only, Sat 14th to Mon 16th April 2018
For news media enquiries, please contact:
Erika Poole
Marketing Co-ordinator
Email: epoole(at)haag-streit-uk(dot)com
DDI: 01279 456260