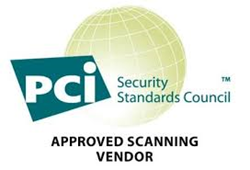 TBG has been successfully assisting our customers in assessing and improving their overall security posture for years. PCI ASV Certification along with our risk management offerings allow us to provide a comprehensive solution for PCI customers.
BOSTON, MA and CHARLESTON, SC (PRWEB) April 09, 2018
TBG Security Inc., a leading risk management solutions provider, announced today that it has received certification as a Payment Card Industry (PCI) Approved Scanning Vendor (ASV) by the PCI Security Standards Council (SSC) for the company's scanning solutions. Designation as an ASV means TBG Security has successfully completed the PCI Security Standards Council Approved Scanning Vendors testing process and is qualified to assess an organization's external network environment for compliance with the PCI Data Security Standard (DSS).
TBG Security has been delivering PCI compliance solutions since 2003, leveraging various in-house security technologies in addition to a third-party vulnerability scanning technology to meet the requirements of our diverse customers. This newly certified solution is delivered using Rapid7's proprietary Nexpose vulnerability scanning platform, which integrates seamlessly with a broad range of TBG's Managed Security Services.
The PCI Data Security Standards (DSS), endorsed by major credit card companies worldwide such as, American Express, Discover Financial, JCB, MasterCard Worldwide and Visa International, requires merchants and service providers that store, process or transmit cardholder data, to adopt information security controls and processes to ensure cardholder data protection. A key component of the PCI DSS is the requirement for organizations to have quarterly external vulnerability scans performed by an ASV qualified by the PCI SSC. As one of these qualified ASVs, TBG Security performs both internal and external vulnerability scans on a regular basis for numerous merchants and service providers.
TBG's PCI solutions help organizations identify exposures and security vulnerabilities in their Internet facing systems through remote vulnerability testing. TBG scans for the most up to date network and application level vulnerabilities, including OWASP vulnerabilities in order to meet your organizations compliance requirements. As a client focused service, the client has full control of the scope and schedule of their scans. TBG offers both scheduled and On-Demand scanning services to meet your organizations needs. Upon completion of the scanning process, TBG Security provides each client with an Attestation Report to submit to their bank or acquirer to validate compliance with the PCI Requirement.
"Being an Approved Scanning Vendor with the PCI Security Council allows us to continue to offer our customers solutions that address their ever changing security and compliance requirements" states Kevin Gorsline, COO for TBG Security. "TBG has been successfully assisting our customers in assessing their security posture for years and has worked to bring them to bring their systems up to compliance standards. ASV Certification along with our risk management offerings allow us to provide a comprehensive solution for our customers with PCI requirements."
TBG Security offers a full line of services that can help clients support their PCI DSS efforts, including:

In an era of increasingly sophisticated and frequent attacks on information systems, the PCI DSS annual ASV qualification reassures merchants and service providers that they are being assessed accurately and fairly against the most current payment industry requirements. The vendors approved by the PCI Security Standards Council are the only entities qualified to perform PCI DSS external vulnerability scans.
About PCI Security Standards Council
The mission of the PCI Security Standards Council is to enhance payment account security by fostering broad awareness and education of PCI security standards. For more information, please visit http://www.pcisecuritystandards.org
About TBG Security Inc.
TBG Security is a leading provider of information security and risk management solutions for fortune 100 and Fortune 500 companies. TBG designs and delivers cyber security solutions to work in harmony with existing operations. Companies depend on TBG services in areas including risk management, security policy, security strategies for compliance, business continuity, network security, managed services, software and service integration and incident response.
For more information on how TBG Security can help your organization with your PCI DSS compliance initiatives and details on their PCI Services please visit https://tbgsecurity.com or contact us at (877) 233-6651.