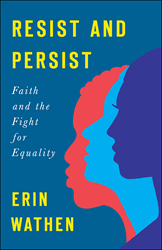 "This trenchant book is a much-needed manifesto for 21st-century Christian feminism." —Publishers Weekly, starred revew
LOUISVILLE, Ky. (PRWEB) April 10, 2018
What does it mean to be a woman in today's culture? What role has the church played in perpetuating misogyny and oppression against women? In Resist and Persist: Faith and the Fight for Equality, Erin Wathen argues that in order to dial back today's harmful rhetoric against women and their bodies—rhetoric that has evolved with misogyny even as women's roles in public life have significantly changed—the community of faith must play a large part in the solution. Today's discrimination is more subtle and indirect, expressed in double standards, microaggressions, and impossible expectations. The patriarchy is sanctioned by every institution: capitalism, government, and even—maybe especially—the church itself where women are welcomed but hold few leadership positions or preaching roles.
Erin Wathen provides a new language of resistance to address this irony, that a religion based in the radical justice and liberation of Jesus' teachings has been the most complicit part of the narrative against women's equality. With all the progress the secular feminist movement has gained, the push for equality must now come from within the church to free women and men from the oppressive power of patriarchy. "If we believe in equality in the boardroom and the halls of Congress," Wathen writes, "we can't let the church off the hook."
Erin Wathen is Senior Pastor of Saint Andrew Christian Church (Disciples of Christ) in Olathe, Kansas, and writes the popular blog Irreverin on the Patheos network. She is the author of More than Words: 10 Values for the Modern Family.
Praise for Resist and Persist: Faith and the Fight for Equality
"Wathen is frank in her assessments of the deep-set problems that she sees patriarchy causing in women's lives—pitting women against women, creating 'pink ghettos' (isolated women's groups) within church communities, and combining with racism to further divide women who should be relying on one another. Wathen looks at society and Christianity through a feminist and antiracist lens, mounting powerful arguments about why it's essential to raise boys as feminists and how social media can be especially dangerous for women. Each of Wathen's chapters ends with a set of questions for discussion, a helpful tool for teachers and professors. This trenchant book is a much-needed manifesto for 21st-century Christian feminism."
—Publishers Weekly, starred review
"Erin Wathen writes with passion, immediacy, and an overriding hope. I pray that her words might inspire liberation and invite us deeper into the struggle."
— Carol Howard Merritt , Author of Healing Spiritual Wounds
"[In] Resist and Persist: Faith and the Fight for Equality (WJK, Apr.), Erin Wathen warns the worst could be yet to come....Women and their male allies must resist the sexism of the Trump agenda, Wathen writes, not only in politics and government, but also in the church."
—Lynn Garrett, Publishers Weekly, "Critics and Activists Add Ferment to Religious Publishing"
Resist and Persist
Faith and the Fight for Equality
Erin Wathen
April 2018
9780664263904 • 5.5" x 8.5" • 176 pages • Paperback • $16.00