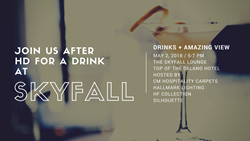 "Being able to create an one of kind evening for your clients with views off the 64th floor in Vegas is pretty special!" - Lacy Price, Director of Marketing at CM Hospitality
DALTON, Ga. (PRWEB) April 08, 2018
CM Hospitality annually hosts an after HD party at Mandalay Bay. For the last two years, the crowd has grown to exceed capacity of the venue so this year, the carpet manufacturer opted to buy out the Skyfall Lounge at the top of the Delano Hotel.
This years manufacturer partners include CM Hospitality Carpets, Hallmark Lighting, HF Collection, & Silhouette Outdoor Furniture. Open bar, Appetizers & Cash Door prizes are on order for the 2 hour event taking place on May 2, 2018 from 5 pm -10 pm.
"We are honored to be apart of this event - I have hosted at this venue in the past and it's truly an incredible view combined with an awesome environment. " says Danny Smith, Sales Manager for HF Collection, a high end furniture manufacturer out of San Francisco, CA.
Hallmark Lighting will also be hosting a booth # 3507 during the 3 day Hospitality Design Expo. Hallmark is well known as a leader in luxury lighting solutions for the hospitality segment for boutique and select service hotels.
This will be Silhouette Outdoor Furniture's second year to participate in this event. Silhouette Outdoor Furniture provides quality outdoor furniture to the hospitality market and offer an extensive portfolio of contract outdoor furniture and accessories specifically designed for any poolside, dining area, bar, VIP garden or balcony space.
"We are so excited to work with these great manufacturing partners," Lacy Price, Director of Marketing. "Being able to create an one of a kind evening for your clients with views off the 64th floor in Vegas is pretty special!"