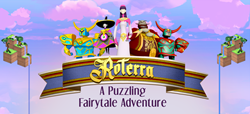 Roterra throws out the concept of consistent gravity in the service of its innovative puzzle design which stretches around the 360 degrees of each level. Without a consistent definition of up and down, the levels provide new challenges for avid puzzlers.
BETHESDA, Md. (PRWEB) April 25, 2018
Dig-It! Games, an entertainment and education game company, is pleased to announce that their perspective-shifting new puzzle game "Roterra" inspired by classical literature will be releasing this summer for iOS. In this commercial project from indie developer Dig-It!, players spin, rotate and shift the world to solve complex puzzles in a beautiful puzzling fairytale where the environment takes on a life of its own.
Roterra is an isometric puzzle adventure that will turn your world upside while challenging your mind with satisfying problem-solving. To regain her throne, Princess Angelica, the rightful ruler of Roterra, must travel through beautifully detailed forests, caves, and castles where the land itself has been manipulated against her. By rotating, sliding, elevating, and spinning the world around her, the Princess must solve the labyrinths and overcome the obstacles set in her path by the evil usurper. The ever-changing, gravity-defying environment of Roterra allows the princess to literally turn the world upside down on her quest to reclaim her Queenship.
In contrast to other isometric puzzle games, where movement is confined to two dimensions, the world of Roterra is made up of floating islands of cubes that can be manipulated in 3 dimensions, allowing players to flip, spin and rotate the world to solve the increasingly complex puzzles. As characters change orientation, the world shifts with them and environmental elements such as trees, rock formations and furniture spring out of or sink back into the ground. Players turn and adjust cubes to create an unobstructed path for Angelica and her supporters through dense forest, creepy caves and regal castles. Many puzzles can only be solved by accessing all six sides of each usable cubes to make paths around, over, and through obstacles. Players must embrace disorientation as characters travel across all sides of the world, often flipping the entire puzzle upside down as they follow the path towards their goal.
"The unique rotating system of Roterra and the visual perspective shifts allow for a lot of creativity in puzzle design," said Suzi Wilcynski, CEO of Dig-It! Games. "Our goal is to offer satisfying, fresh gameplay to puzzler fans in a genre increasingly preoccupied with ambiance rather than difficulty."
Roterra was inspired by literary classics, especially "Orlando Furioso," the 16th century epic poem by Ludovico Ariosto. From the Odyssey to Shakespeare and folk tales throughout history, the archetype of the hero's journey to control the chaos around him inspired game mechanics and level ideas that shifted the physical world around the characters. In Orlando Furioso, the hero's journey is flipped on its head and, instead, the reader is continually asked to question what they believe to be true. A story told from one perspective turns out to be remarkably different when seen from another character's point of view, and the line between hero and villain is constantly in flux. Surprisingly for the time period, strong female characters abound in Orlando Furioso, from powerful female knights to clever sorceresses. Roterra's main character, Angelica, is an amalgam of these characters who defied medieval depictions of women as helpless accessories, fully dependent on men to care for them.
"Our designers internalized these forced shifts of perception as they worked to create a world where orientation changes at the push of a button," says Wilczynski. "Things are rarely as they seem and the correct path is rarely the obvious one."
The development of Roterra marks the expansion of Dig-It Games' focus from educational products to include entertainment-based games. In these new efforts, Dig-It! has taken their experience working on educational tools and applies those ideas to crafting challenging puzzles. Just like in their social studies or science games, players learn as they tackle Roterra's challenges. The mind-bending puzzles demand critical thinking and careful logic from players.
In conjunction with this game announcement, a teaser trailer for Roterra has also been released, showcasing the unique art, interesting mechanics, and upside-down fairytale storyline. However, it only provides a hint at what Roterra will offer in its final, complete version. As the release date draws closer, more and more will be revealed about the characters, mechanics, and world through its website and social media.
Will Angelica be able to take back her throne amidst this puzzling, magical world?
Those who would like to review the game, please reach out to request a review copy when they become available. Additionally, anyone who would like to become a beta tester or keep up to date on Roterra can sign-up at PlayRoterra.com.
About Dig-It! Games: Dig-It! Games is an award-winning game studio delivering casual and educational games worldwide. Our mission-based game development studio is dedicated to creating new educational games each year that encourage kids to explore the world around them. Founded by Suzi Wilczynski, professional archaeologist and former middle-school teacher, Dig-It! Games develops educational tools that promote critical thinking, independent learning and cultural understanding. Our recent expansion into casual games is an extension of the overall goal to provide a seamless blend of fun and learning with games. Recent releases include Silk Road Match 3, Excavate! Byzantine, and Roman Town II.
Learn more at the Dig-It! Games website:
http://www.dig-itgames.com/
Keep up with the game at:
http://playroterra.com/
Social Channels:
Twitter: https://twitter.com/DigItGames
https://twitter.com/roterragame
Facebook: http://www.facebook.com/DigitGames