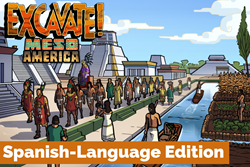 We aim for our educational tools to be available to as many different students as possible, and the translation opens the doors for more students to experience Excavate! MesoAmerica.
BETHESDA, Md. (PRWEB) April 23, 2018
DIG-IT! Games, a mission-based, independent developer of mobile games and award-winning interactive learning tools is pleased to share that their Excavate! Mesoamerica game will be available in Spanish starting on May 5. This new version includes the same features as the English-language version including its C3-aligned gameplay and fun archaeological exploration, opening the social studies game up to a wider variety of students. To support cultural diversity, teacher and parents, the HTML5 version of game is available as a free download from our website during the month of May 2018. The game is also available on the web, Android devices, and iOS devices regularly for $3.99.
The Excavate! games are designed by former middle school teacher and DIG-IT! Games CEO Suzi Wilczynski. Through engaging gameplay and challenging analysis, the series aims to take students on entertaining and educational archaeological adventures through time and around the world. Using archaeologists' tools, players will uncover real artifacts from ancient cultures. Each civilization includes 3D artifacts and detailed illustrations of ancient life to immerse the user in each unique culture. The game-based learning tool is an excellent way to bring fun to any Spanish language learning, ESL studies, and Spanish-immersion curriculum.
By offering the Spanish translation of the MesoAmerica edition, we envision that the game will be able to be used in Spanish-language and Hispanic culture classes. We are pleased to offer this award winning game to an expanded group of students including Spanish speaking countries. The translation opens the doors for more students to experience fun and learning through this archaeology game
In Excavate! MesoAmerica, students analyze three significant locations tied to the Aztec, Inca, and Maya cultures. At each location, students make meaning of how artifacts were used through a series of analysis questions and reports, gaining knowledge about the people who lived, worked and played there. Within this game, students will learn about the significance of jade and obsidian for the Maya, distinguish the role of gods in Incan society, and gain perspective on Aztec engineering.
The game is also available in a bundle with our game 3 Digits which teaches the Mayan numeral system in a fun and engaging way. This bundle is currently only for iOS devices and is available on the Apple App Store. Dig deep into the cultures of MesoAmerica!
"The Excavate! games are just great! My students take turns to excavate with the tools, read the instructions and questions aloud, answer questions, discuss ideas, and complete the journaling," said Samantha McClusky, an educator from Searsy, AR. "They are learning so much and ask for me to teach them more!"
These educational games are suitable for grades 3-8 and correlate to Common Core State Standards (and equivalents) for ELA and The National Council for Social Studies C3 Framework. The game includes the new educational game and app learning analytics standard GBLxAPI, which is improving learning data reporting in educational games and applications. All current and future versions of the social studies video games now include HTML5, iOS and Android versions, supported on the most recent browsers and available on the Apple App Store, Google Play, and Amazon Appstore. They are available immediately at the Dig-it! Games website store and the respective app stores.
About DIG-IT! Games: Dig-It! Games is an award-winning, mission-based game development studio dedicated to creating games that encourage kids to explore the world around them. Founded by professional archaeologist and former middle-school teacher, Suzi Wilczynski, Dig-It! Games develops educational tools that promote critical thinking, independent learning and cultural understanding. All games incorporate age-appropriate content in math, science, social studies and language arts into fun interactive and engaging learning experiences.
Learn more at DIG-IT! Games:
http://www.dig-itgames.com
Social Channels:
Twitter: https://twitter.com/DigItGames
Facebook: http://www.facebook.com/DigitGames