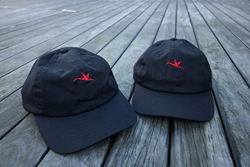 We want to inspire people to fight cancer alongside some of our youngest warriors
ANAHEIM, Calif. (PRWEB) April 10, 2018
Cancer survivor introduces nanomineral headwear to the worlds of fashion, wellness and philanthropy. Launched for the healthy lifestyle, OURA is the only self-cleaning, stylishly functional headwear available to consumers today.
Founded by siblings, Keane and Shaun Veran, OURA brings nanomineral technology to American-made headwear, while giving back to pediatric cancer patients. The inspiration came after Keane was diagnosed with leukemia. He recognized the need for cleaner hats while undergoing chemotherapy and the vital relief that support from a charity can bring during a serious illness.
A social enterprise focused on cancer support, OURA harnesses the collective power of community to empower patients with a message of resilient hope. Keane Veran spent most of his childhood in treatment fighting cancer. It was the overwhelming support of family, friends, doctors, and even strangers, that inspired him to be more hopeful in the face of a life-threatening illness. That feeling of resilient hope helped him to become a survivor. Now, OURA wants to help other patients fight cancer with that same feeling of hope. .
Inspired by the Japanese legend of folding 1000 origami cranes to receive a wish, OURA manufactures 1000 limited edition hats with each design. After they have been sold, OURA grants the wish of a pediatric cancer patient through Make-A-Wish. "We want to inspire people to fight cancer alongside some of our youngest warriors," said co-founder Keane Veran, whose wish to meet the President was granted by Make-A-Wish in 2011. "Nothing motivated my fight more than having my wish granted and we wanted to recreate that for other patients. OURA is a statement of solidarity with those who need our support the most. Each headwear represents 1/1000th of a potentially life-saving wish."
OURA combines fashion and function by using the most advanced fabrics to create a highly comfortable, stylish, and protective hat. In every hat are millions of nanominerals that play a role in protecting the wearer with 10 unique features. All OURA headwear are anti-bacterial, UV protective, self-cleaning, water repellent, hypoallergenic & more. OURA combines technology, style and philanthropy so you'll feel good, look good, and do good.
OURA's first limited-edition design and more information about the cause is available at ouragami.org
About OURA
OURA is a wellness brand passionate about fighting pediatric cancer and bringing healthy solutions to your wardrobe. Hope helped us beat cancer and now we are recreating that same hope for other patients. With every 1000 hats sold, OURA grants the wish of a child battling cancer through our nonprofit partners. We fuse fashion and technology to create functional headwear and accessories.