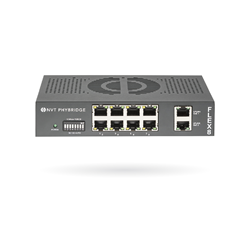 The FLEX8 is the perfect addition to help us expand our product offering, making sure we have a solution for every customer.
ONTARIO (PRWEB) April 10, 2018
NVT Phybridge expands its award-winning FLEX Family with the FLEX8 Long Reach PoE Switch, making it efficient and cost-effective for businesses around the world to move to IP and the Modern LAN.
The FLEX8 is a versatile, high-powered, enterprise-class solution with 8 downlink ports delivering fast Ethernet (100Mbps full duplex, symmetrical) and up to PoE++ (50Wper port) over multi-pair UTP for up to 2,000ft (610m) – that's 6Xs the distance of typical PoE switches.
Unlike other Network Switches, FLEX8 Delivers Speed, Reach and Power, leveraging new or existing 1 pair, 2 pair or 4 pair UTP cable and can operate in standard mode (without an adapter) to 328ft (100m) and long reach PoE mode for extended reach to 2,000ft (610m). The FLEX8 switch auto detects data rate for maximum bandwidth and transmission distance and is equipped with a speed toggle which can be positioned to force 10Mbps when necessary to establishing a link.
"When modernizing to IP, businesses can now take full advantage of Modern LAN principles and avoid major traditional challenges as they look to connect IP endpoints to IP applications. NVT Phybridge designed the FLEX Family to help customers gracefully upgrade to IP eliminating the cost, risk and complexity that come with the 328ft reach limitations of standard Ethernet switches" said John Croce, CEO of NVT Phybridge "The FLEX8 is the perfect addition to help us expand our product offering, making sure we have a solution for every customer."
FLEX8 was designed to make the modernization to IP quick, easy and cost effective by leveraging 1, 2 or 4 pair UTP infrastructure, it is an enabler of Modern LAN principles, and is IoTᴳ certified. As part of the FLEX8 launch NVT Phybridge is offering special discounts on the Flex8 Switch and all Flex Extender Kits.
Visit: http://www.nvtphybridge.com/flex8 for more information!
About NVT Phybridge
Since 1998, NVT Phybridge are leaders in transmission solutions for the Physical Security and Communications Industries. In 2007 we introduced award-winning long reach PoE innovations designed to make IP connections in far places simple and affordable. Our CHARIoT Series of switches transform single-pair UTP, coax or multi-pair UTP, in existing or new locations, into an IP path with power. Our number one priority is to help businesses save money, eliminate risk and disruption, and accelerate their IP modernization, building a robust, secure PoE platform that is easy to configure, install, manage and troubleshoot.