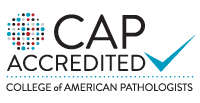 "CAP's peer-based inspection model and rigorous standards are backed by the most respected worldwide pathology organization," says Roberto Gianani, MD, Flagship Medical Director
WESTMINSTER, Colo. (PRWEB) April 10, 2018
The Accreditation Committee of the College of American Pathologists (CAP) has awarded accreditation to Flagship Biosciences, based on results of a recent on-site inspection as part of the CAP's Accreditation Programs.
"CAP accreditation validates Flagship's commitment and dedication to ensuring the highest quality for our clients and patients," says Roberto Gianani, MD, Flagship Medical Director. "CAP's peer-based inspection model and rigorous standards are backed by the most respected worldwide pathology organization."
Flagship's CAP accreditation covers the following areas and laboratory services:

All Common
Anatomic Pathology Processing
Digital Image Analysis
During the CAP accreditation process, designed to ensure the highest standard of care for all laboratory patients, inspectors examine the laboratory's records and quality control of procedures for the preceding two years. CAP inspectors also examine laboratory staff qualifications, equipment, facilities, safety program and record, and overall management.
The U.S. federal government recognizes the CAP Laboratory Accreditation Program, begun in the early 1960's, as being equal-to or more-stringent-than the government's own inspection program.
Visit Flagship Biosciences at flagshipbio.com to learn more about its laboratory and computational image analysis services.
About the College of American Pathologists
As the world's largest organization of board-certified pathologists and leading provider of laboratory accreditation and proficiency testing programs, the College of American Pathologists (CAP) serves patients, pathologists, and the public by fostering and advocating excellence in the practice of pathology and laboratory medicine worldwide. Find more information about the CAP at cap.org. Follow CAP on Twitter: @pathologists.
About Flagship Biosciences
Flagship Biosciences helps drug developers confidently define their path to success. By leveraging our unique Computational Tissue Analysis (cTA) and Data-Driven-Decision Support Platform, we provide quantitative and contextual tissue interpretation to make timely decisions. For more information on how Flagship accelerates drug development, please visit flagshipbio.com.
Media Contact
Amy Shannon
VP, Sales & Marketing
ashannon(at)flagshipbio(dot)com
303.608.9008