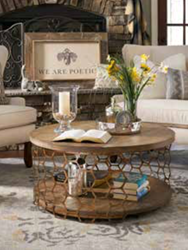 "The unique approach of combining design from the fashion jewelry world into creative designs for the home gives Waxing Poetic Home an exciting story, one that creates an emotional connection..."
CARPINTERIA, Calif. (PRWEB) April 10, 2018
Waxing Poetic, a women's handcrafted jewelry brand known for its unique and meaningful charms, pendants, necklaces and bracelets, has announced that they will be teaming up with Klaussner Home Furnishings based in Asheboro, NC to create an innovative twist on licensed furniture collections.
Waxing Poetic and Klaussner have collaborated to create accent pieces for the home inspired by top selling jewelry pieces. "Entering the furnishings industry has been a dream of mine for such a long time," said Patti Pagliei, Founder and Creative Director. "The home is our haven, and the furniture we choose for our homes expresses who we are. This is the basic concept of Waxing Poetic: we celebrate our journey in life through personal adornment that delights us and holds meaning, and now we are expanding that concept into the home."
The collection consists of 30 pieces of accent furnishings including tables, chairs, chests and étagères. Each piece is unique in size, finish and hardware to allow it to stand on its own merit. "The unique approach of combining design from the fashion jewelry world into creative designs for the home gives Waxing Poetic Home an exciting story, one that creates an emotional connection, and more importantly sales at retail," according to Geoff Beaston, Klaussner Sr. VP of Case Goods. "Each accent item in the collection reflects beauty and meaning from pieces of jewelry that already have proven appeal to the female consumer. Why not enjoy such design in your home?"
Waxing Poetic will be setting up a mini boutique within the Klaussner showroom to showcase the jewelry that inspired the collection. The co-founders of Waxing Poetic, Patti Pagliei and her sister Lizanne Pagliei-Hales will be in the Klaussner space during the market to share details of the collaboration as well as give away some of their beautiful jewelry.
------
About Waxing Poetic: Waxing Poetic: Headquartered in Carpinteria, CA, just outside Santa Barbara, Waxing Poetic was founded over 17 years ago by two sisters, Patti & Lizanne, who combined their passion for family, friends, faith and their love of jewelry. Handmade in Bali using artisan techniques, the jewelry pays homage to the journey of our lives: where we come from, what our stories are, and how they have influenced both the world, us and all of those we love.  Waxing Poetic jewelry is available at http://www.waxingpoetic.com, in more than 550 boutiques and stores throughout the US and Europe, and through their social selling network of consultants at https://www.personallypoetic.com.  
About Klaussner Home Furnishings:
About Klaussner Home Furnishings: Headquartered in Asheboro, N.C., Klaussner Home Furnishings has grown to become one of the largest furniture companies in America with showrooms in High Point, Las Vegas and Chicago. As the leading solutions provider for the home furnishings industry, Klaussner's breadth of product is unrivaled and its service is unparalleled with guaranteed delivery of its domestic products in 21 days or less. Its comprehensive selection and divisions include: Domestic Upholstery, Imported Upholstery, Domestic Motion, Case Goods, Enso Sleep Systems, Comfort Design and Klaussner Outdoor.