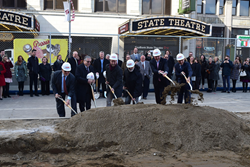 CLEVELAND (PRWEB) April 06, 2018
On Thursday, April 5, Gilbane Building Company and Playhouse Square came together to celebrate the official groundbreaking of The Lumen at Playhouse Square, a new apartment tower in downtown Cleveland. Speakers at the official groundbreaking ceremony included Playhouse Square Board Chairman Jim Ratner, Playhouse Square President and CEO Art Falco, Cleveland Mayor Frank Jackson, County Executive Armond Budish and Councilman Kerry McCormack.
The new 34-story Playhouse Square apartment building will be a distinct addition to the Cleveland skyline and will include 318 rental units. The new development will spur demand for local businesses and elevate the energy within the neighborhood. Situated on a one-acre site at the corner Euclid Avenue and East 17th Street, replacing the parking lot across from the Connor Palace, the tower will also have 528 parking spaces and 22,000 SF for resident amenities. The project is largely composed of floor-to-ceiling glass, painted aluminum panels and exposed cast-in-place concrete, making a dynamic contribution to the Cleveland skyline.
"We are honored to be a part of such an exciting and monumental project in the heart of downtown Cleveland. This project will provide hundreds of construction jobs and ultimately strengthen the energy of the neighborhood for generations to come." said Kyle Merrill, Gilbane Building Company Area Manager
Gilbane is providing general contracting services for the new apartment tower, and project completion is set for March 2020.
About Gilbane Building Company
Gilbane provides a full slate of construction and facilities-related services – from pre-construction planning and integrated consulting capabilities to comprehensive construction management, general contracting, design-build and facility management services – for clients across various markets. Founded in 1873 and still a privately held, family-owned company, Gilbane has 46 office locations worldwide. For more information, visit http://www.gilbaneco.com. Gilbane has been providing construction management services in Ohio since 1959.