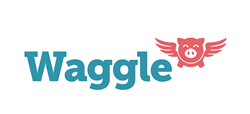 "Waggle is simply different than traditional digital programs. It challenges students with rigorous content while developing the skills and productive struggle needed for solving problems."
NEW YORK (PRWEB) April 09, 2018
Waggle (wagglepractice.com) today announced its return to the K12 EdTech market with its trademark "flying pig" logo and AI-enabled adaptive learning solution that's delighted students and educators nationwide. The team, led by founder and CEO Aoife Dempsey, is more passionate than ever about revolutionizing personalized, practice-based mastery of math and ELA for grades 2-8.
Waggle's reentry is borne on the wings of results: research shows that Waggle users saw a 25% average increase in math and ELA proficiency. The platform reached over 230,000 active users in 2017.
"Educators are fearless in the K12 space. They are willing to experiment and try new things even with the competing demands on their time. We want to spend our time with these educators helping them figure out what works best for their students," says Dempsey.
Aoife and team are backed by several prominent technology and education investors, including lead investor, Platform Ventures LLC, of Stamford, Connecticut and Peter Davis (former President of McGraw-Hill Education and newly-installed Chairman of the Waggle Board of Directors). Waggle is actively bringing districts onboard for Summer 2018 programming.
According to Davis, "We know that personalized learning is a powerful force in education, and Waggle's combination of rigorous content and adaptive capabilities place it in a league of its own…it is something competitive offerings can't match."
Former Superintendent of the Year and known champion for public schools, Philip Lanoue, is partnering with Waggle to optimize educational content and guide innovation in the product.
Lanoue states, "Waggle is simply different than traditional digital programs. It challenges students with rigorous content while developing the skills and productive struggle needed for solving problems."
Waggle is recognized industry-wide as a market leader, winning the SIAA Education Technology CODiE award for Best Learning Capacity-Building Solution; being a District Administration Magazine Reader's Choice "Top Products" winner; and earning Tech & Learning's "Best in Show" designation twice.
Chris Barkley, Managing Partner at Platform Ventures LLC comments, "We could not be more proud to have Aoife and the broader team at Waggle join our growing portfolio, and we are excited to partner with them, positively impacting so many students and educators across the U.S., and ultimately the globe."
About Waggle: Waggle is an independent K12 EdTech company providing award-winning adaptive learning solutions that empower instructors with real-time feedback on students' mastery of increasingly challenging, personalized problem sets. The company's solutions, along with their proven efficacy, are now available to all K12 educational institutions as subscription-based programs.
Contact:
Waggle: Lisa Huston, lisa@wagglepractice.com
Platform Ventures LLC: David Joseph, djoseph(at)platformventures.com