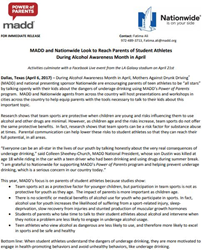 "Communicating with your kids to help lower their risks of abusing alcohol and using other drugs is one way to be an All-Star Parent." says Dr. Robert Turrisi.
DALLAS (PRWEB) April 09, 2018
During Alcohol Awareness Month in April, Mothers Against Drunk Driving® (MADD) and national presenting sponsor Nationwide are encouraging parents of teen athletes to be "all-stars" by talking openly with their kids about the dangers of underage drinking using MADD's Power of Parents program. MADD and Nationwide agents from across the country will host presentations and workshops in cities across the country to help equip parents with the tools necessary to talk to their kids about this important topic.
Research shows that team sports are protective when children are young and risks influencing them to use alcohol and other drugs are minimal. However, as children age and the risks increase, team sports do not offer the same protective benefits. In fact, research shows that team sports can be a risk factor for substance abuse at times. Parental communication can help lower these risks to student athletes so that they can reach their full potential, in all areas.
"Everyone can be an all-star in the lives of our youth by talking honestly about the very real consequences of underage drinking," said Colleen Sheehey-Church, MADD National President, whose son Dustin was killed at age 18 while riding in the car with a teen driver who had been drinking and using drugs during summer break. "I am grateful to Nationwide for supporting MADD's Power of Parents program and helping prevent underage drinking, which is a serious concern in our country today."
This year, MADD's focus is on parents of student athletes because studies show:

Team sports act as a protective factor for younger children, but participation in team sports is not as protective for youth as they age. The impact of parents is more important as children age.
There is no scientific or medical benefits of alcohol use for youth who participate in sports. In fact, alcohol use for youth increases the likelihood of suffering from a sport-related injury, sleep-deprivation, slow recovery from injuries and stunted production of muscular growth hormones.
Students of parents who take time to talk to their student athletes about alcohol and intervene when they notice a problem are less likely to engage in underage alcohol usage.
Teen athletes who view alcohol as dangerous are less likely to use, and therefore more likely to excel in sports and be safe and healthy.
Bottom line: When student athletes understand the dangers of underage drinking, they are more motivated to engage in health-promoting behaviors and avoid unhealthy behaviors, like underage drinking.
"Many times parents wonder whether their kids listen to them," said Bill Windsor, Nationwide Associate Vice President of Consumer Safety, "but with alcohol, parents really can make a significant difference."
MADD's Power of Parents program centers on parents because 74 percent of teens say their parents are the biggest influence on their decisions to drink underage. New to the program this year, MADD and National Supporting Partner National Alcohol Beverage Control Association (NABCA) will release five videos with powerful messages for parents about the dangers of underage drinking and how to play a role in prevention. The videos feature Dr. Robert Turrisi, PhD, Penn State professor of Biobehavioral Health and Prevention Research Center, whose research is the basis of MADD's Power of Parents program. The videos will be posted on madd.org/powerofparents April 1, 2018.
"This is an exciting opportunity to celebrate All-Star Parents. All-Star Parents are the ones who help their kids on and off the field. Communicating with your kids to help lower their risks of abusing alcohol and using other drugs is one way to be an All-Star Parent," says Dr. Robert Turrisi.
The month's activities will culminate with an event with Major League Soccer's LA Galaxy to commemorate PowerTalk 21® day – the national day for parents and teens to talk about underage drinking. This year, MADD, Nationwide and the Galaxy will host an event at 4:30 p.m. PST on April 21 before the team takes on Atlanta United at the Galaxy's home field, Stub Hub Center in Carson, California: http://www.lagalaxy.com/tickets/madd. The event also will be broadcast live on MADD's Facebook page. At the event, parents, teens, and role models of underage youth will get to meet a former Galaxy player and learn from experts about how parents and teens can tackle the uncomfortable subject of underage drinking.
PowerTalk 21 is a part of MADD's Power of Parents program that empowers parents of middle school and high school students to have ongoing, intentional conversations about the dangers and consequences of underage drinking. Parents can download free Power of Parents handbooks for parents of middle school and high school students at http://www.madd.org/powerofparents.
About Mothers Against Drunk Driving
Founded in 1980 by a mother whose daughter was killed by a drunk driver, Mothers Against Drunk Driving® (MADD) is the nation's largest nonprofit working to end drunk driving, help fight drugged driving, support the victims of these violent crimes and prevent underage drinking. MADD has helped to save more than 350,000 lives, reduce drunk driving deaths by more than 50 percent and promote designating a non-drinking driver. MADD's Campaign to Eliminate Drunk Driving® calls for law enforcement support, ignition interlocks for all offenders and advanced vehicle technology. MADD has provided supportive services to nearly one million drunk and drugged driving victims and survivors at no charge through local victim advocates and the 24-Hour Victim Help Line 1-877-MADD-HELP. Visit http://www.madd.org or call 1-877-ASK-MADD.
About Nationwide
Nationwide, a Fortune 100 company based in Columbus, Ohio, is one of the largest and strongest diversified insurance and financial services organizations in the U.S. and is rated A+ by both A.M. Best and Standard & Poor's. The company provides a full range of insurance and financial services, including auto, commercial, homeowners, farm and life insurance; public and private sector retirement plans, annuities and mutual funds; banking and mortgages; excess & surplus, specialty and surety; pet, motorcycle and boat insurance. For more information, visit http://www.nationwide.com.
Nationwide, Nationwide is on your side and the Nationwide N and Eagle are service marks of Nationwide Mutual Insurance Company.