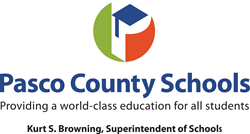 "We are excited to partner with Pasco County Schools, our first district in Florida, which is facing a real teacher shortage," said Evan Edberg, CEO at Proximity Learning.
LAND O' LAKES, Fla. (PRWEB) April 09, 2018
Land O' Lakes, FL: Proximity Learning Inc. (PLI) and Pasco County Schools (PCS) are proud to announce a new partnership, implementing virtual Science teachers within Pasco's high school classrooms. With PLI's innovative virtual classroom setting and Pasco County Schools dedication to quality education, this partnership will no doubt be an exemplar in securing educational solutions through the use of a more progressive learning environment.
In the midst of a nationwide teacher shortage crisis, Pasco County Schools is partnering with PLI, a top rated virtual K-12 staffing company. An all too frequent challenge for Pasco County Schools is the realization that few to no teachers apply for employment for many of their vacancies in math and science. This shortage has benefitted a limited number of available teachers to command and accept offers in locations that are wealthier and pay higher salaries. While this is of benefit to the teachers, the net result is that many schools in more modestly funded locations remain understaffed. Pasco County struggles to find qualified teachers for many of these locations.
Pasco County Schools' mission is predicated on the notion that all students deserve a quality education. Furthermore, PCS is not satisfied with having long term substitutes in their classrooms while they search for qualified teachers. During their attendance at the American Association of School Personnel Administrators conference, the PCS HR team, discovered a new method to temporarily staff vacancies while they continue to search for qualified candidates. The solution? Virtual K-12 Instruction. PCS implemented a virtual pilot program placing two science teachers in one of their high schools to determine if this could be a viable solution in teaching Physical Science, Environmental Science and Biology.
"We are excited to partner with Pasco County Schools, our first district in Florida, which is facing a real teacher shortage," said Evan Edberg, CEO at Proximity Learning. "STEM education is essential for all students, being able to place the country's best science teachers in front of Pasco's students will give them a chance to succeed. "
Proximity Learning is recognized for improving individual student outcomes and success, they boast a 93% course pass rate. Moreover, PLI offers over 38 nationally accredited instructional options, ranging from S.T.E.M, computer programing and seven world languages.
About Pasco County Public School District: Located north of Tampa, Florida, Pasco County Public School District is an area with over 84 schools, 60,000 students and 6,000 teachers. The district is one of the largest districts in the state. Pasco County promotes academic excellence in its staff, community, volunteers and students. Learn more: website.
Proximity Learning Inc.: A Virtual K-12 Staffing company focused on ensuring every student has access to a master teacher to lead instruction no matter their location or financial situation. Proximity Learning services over 30,000 students annually boasting the highest quality teachers, most innovative virtual classrooms, and the reputation as a flexible learning solution to both public and private school districts. Learn more: http://proxlearn.com/.