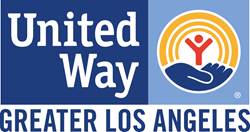 LOS ANGELES (PRWEB) April 09, 2018
United Way of Greater Los Angeles announced today that registration is open for the second-ever Empower(Her) Spring Salon, an annual event dedicated to encouraging and supporting female leadership at all levels throughout Los Angeles County. The event will be held at the Spectra Lounge at the Pacific Design Center on April 19th and will focus on teaching attendees how to own their truths and unapologetically tell their stories.
The event will also feature inspiring stories from local female leaders including keynote speaker Mei-lan Stark, Senior Vice President and Chief Counsel, Intellectual Property at NBC Universal, Elise Buik, President and CEO of United Way of Greater Los Angeles, and Millie Brown, CSH Speak Up! Advocate with lived experience with homelessness.
"Empowering women has become a movement that can't be stopped and now, more than ever, we need to come together as a community to become agents of positive change," said Elise Buik, President and CEO of United Way of Greater Los Angeles. "There are many difficult obstacles we have to overcome across L.A. County and the more that we can support each other as Angelenos, the stronger we'll become."
Empower(Her) is sponsored by City National Bank as part of the company's long-term efforts to create solutions that encourage inclusivity, expand social awareness and positively impact people's lives. City National Bank is a long-time supporter of United Way, with more than 22 years supporting the organization's mission to end homelessness and poverty.
"City National is proud to partner with United Way to bring attention to the issues most pressing in our communities. Women's voices must be part of the conversations and solutions to these issues," said Jennifer Nickerson, Vice President, Corporate Citizenship. "Empower(Her) is a way to help women find their voice to help bring about change."
This event is open to the public and all attendees, regardless of gender, are welcome. Registration is $30 ($20 for Women United members) and drinks and hors d'oeuvres will be served. Register for United Way's Empower(Her) now.
"Now is the time to build on the momentum we see in the empowering women movement. If we work together and support one another as women, we can strive to bring true equality to the classrooms, boardrooms, and communities of Los Angeles," said Mei-lan Stark, Senior Vice President and Chief Counsel, Intellectual Property at NBC Universal. "Together we can make a difference!"
About United Way Greater Los Angeles:
United Way of Greater Los Angeles is a nonprofit organization fighting to end homelessness and poverty by providing students with support needed to graduate high school prepared for college and the workforce, providing housing for our homeless neighbors, and helping hard-working families become financially stable. United Way identifies the root causes of poverty and works strategically to solve them by building alliances across all sectors, funding targeted programs and advocating for change. For more information, visit http://www.unitedwayla.org.
About City National Bank:
With $48.7 billion in assets, City National Bank provides banking, investment and trust services through 72 offices, including 19 full-service regional centers, in Southern California, the San Francisco Bay Area, Nevada, New York City, Nashville, Atlanta, Minneapolis and Washington, D.C. In addition, the company and its investment affiliates manage or administer $64.9 billion in client investment assets.
City National is a subsidiary of Royal Bank of Canada (RBC), one of North America's leading diversified financial services companies. RBC serves more than 16 million personal, business, public sector and institutional clients through offices in Canada, the United States and 34 other countries.
For more information about City National, visit the company's website at cnb.com.