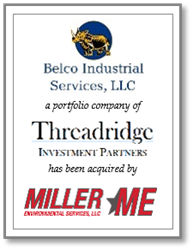 CHARLOTTE, N.C. (PRWEB) April 09, 2018
With locations in Prairieville, Louisiana and La Porte, Texas, Belco (http://www.belcois.com) is a leading provider of turnkey industrial services to customers in the Gulf Coast and beyond. The Company's unique combination of industrial cleaning, linings and coatings and mechanical services has made Belco a trusted partner for industry-leading operators seeking to reduce asset downtime and improve reliability.
BlackArch was retained by Threadridge Investment Partners and management to serve as their exclusive financial advisor.
Mike Rose, CEO of Belco, commented, "BlackArch's level of attention to detail far exceeded my expectations based on my 30+ years of experience. BlackArch possesses a unique, strong understanding of the industrial services market at a macro level and leverages that knowledge on a micro level when dealing with specific companies looking to align themselves for growth. They were exemplary in keeping Belco focused on the process and quickly responded to questions and concerns."
Sam Bowles, Managing Director of Threadridge, commented, "The BlackArch team did an exceptional job of managing the process from start to finish. Their deep industry expertise, intense work ethic and uncompromising dedication to Belco and its shareholders resulted in a great outcome for all parties involved. They exceeded our expectations, and we look forward to working with them again."
Transaction Highlights
 Miller Environmental Services has acquired Belco Industrial Services from Threadridge Investment Partners
 Belco is a leading provider of turnkey industrial services in the Gulf Coast and beyond
 BlackArch leveraged its deep industrial services market and business model knowledge to achieve a superior outcome for management and the shareholders
About Threadridge Investment Partners
Threadridge Investment Partners is the investment arm of The Springs Company, a fully-integrated family office and holding company. With a long-term orientation, stable capital base and experienced partners, Threadridge has a flexible mandate to invest across all asset classes and business types. Based in Charlotte, North Carolina, Threadridge seeks to pursue investment opportunities through a range of channels, including primary funds, co-investments, and direct equity or debt investments. With a long-term mindset, Threadridge aims to build lasting partnerships with its investment managers and company management teams. For additional information, please visit http://www.threadridge.com.
About Miller Environmental Services
Miller Environmental Services ("Miller") is a leading provider of industrial cleaning and environmental services. Founded in 1985, Miller Environmental Services has provided exceptional service and reliability to its customers along the Gulf Coast. The company offers a broad array of industrial cleaning and environmental services and operates within the downstream, midstream, and upstream hydrocarbon processing markets. These services include vacuum truck services, tank cleaning, chemical cleaning, vapor control, hydroblasting, waste management, hydro-excavation and other related services. The company also has extensive experience in the environmental spill response industry. Miller is highly regarded for its strong safety record, innovative technology and experienced operations team. Miller has over 400 employees at eight operations centers located in Corpus Christi, Texas (headquarters); Houston, Texas; Beaumont, Texas; Catarina, Texas (Eagle Ford); Three Rivers, Texas (Eagle Ford); Texas City, Texas; Baton Rouge, Louisiana and Sulphur, Louisiana.
About Trinity Hunt Partners
Based in Dallas, Texas, Trinity Hunt Partners (http://www.trinityhunt.com) is a middle market private equity firm with over $670 million under management, focused on building founder and family-owned growth businesses into market leaders. Trinity Hunt has earned a reputation for working effectively with entrepreneurs to provide strategic, operational and financial expertise to help elevate their companies to the next level of success. In the last two decades, the Trinity Hunt team has invested over $1.3 billion of equity capital in more than 60 platform companies spanning a diverse array of industries and economic cycles.
About BlackArch Partners
BlackArch Partners is a leading middle-market investment bank offering a full spectrum of advisory services to financial sponsors, private companies and diversified corporations. BlackArch addresses the needs of owner-operators, founders and shareholders of private companies with specialized services that include M&A advisory, strategic advisory and private capital solutions. Headquartered in Charlotte, North Carolina, with offices in Houston, Texas, BlackArch features a total of 12 industry-focused practices that cover all sectors of interest to middle-market investors; BlackArch professionals have closed more than 400 transactions in 16 countries on four continents. Please visit our website, http://www.blackarchpartners.com, for more details.
Securities offered through BlackArch Securities LLC. Member FINRA and SIPC. Testimonials may not be representative of the experience of all clients. Testimonials are not a guarantee of future performance or success.