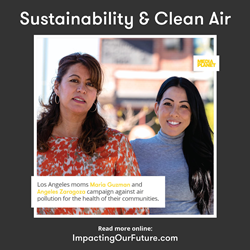 Becoming a mother has given me a great awareness on how to teach these values by example.
New York, NY (PRWEB) April 06, 2018
With sustainability and environmental protection more important than ever, Mediaplanet announced the launch of this March's edition of "Sustainability and Clean Air." This campaign will encourage citizens of Los Angeles and beyond to play a greater role in the state-wide conversation environment action by participating on a personal level. It will educate our reades on how to live sustainably, maintain water efficiency within their home, and fight against air pollution in their day to day lives.
Two of California's most vulnerable resources, air and water, are both currently at risk. In Southern California, a third of residents live in areas that at one point has exceed federal standards for air quality, and the 47% of the state is still seriously affected by the drought that plagued California for years. Because of this, solutions like clean transportation and water conservation are key movements in supporting these natural resources. Beyond that, this campaign advocates for sustainable living practices as a way to support the environment as a whole.
The print component of "Sustainability and Clean Air" is distributed within L.A Times in Southern California markets, with a circulation of approximately 455,000 copies and an estimated readership of 1.3 million. The digital component is distributed nationally, through a vast social media strategy, and across a network of top news sites and partner outlets. To explore the digital version of the campaign, click here.
On the cover is Angeles Zaragoza and Maria Guzman, two Los Angeles moms who are standing up against severe air pollution in their home communities. In partnership with Mom's Clean Air Force, these moms outline the health concerns they have for their children living in poor environmental conditions. "LA ranks worst of those cities. Because of this, our families face a disproportionately higher risk of asthma, bronchitis, and even death from air pollution. That's why clean air protections are both real and really personal for us. They are a matter of life and death."
Also featured within the campaign is activist and actress Amy Smart. The "Just Friends" star speaks up about her commitment to sustainability and protecting the environment. She also describes how being a mother has furthered her efforts towards protecting the earth and staying green. "Becoming a mother has given me a great awareness on how to teach these values by example. I also care even more for the future of this planet because I want to see her thrive and live a happy full life here." Amy Smart.
This campaign was made possible with the support of The California Air Resources Board, Mom's Clean Air Force, the American Lung Association, the Indoor Air Quality Association, Gladstien Neandross & Associates, CALSTART, Solar Energy Industries Association, The Coalition for Clean Air, the U.S Water Alliance, the National Association of Home Builders and more.
About Mediaplanet
Mediaplanet specializes in the creation of content marketing campaigns covering a variety of industries. We tell meaningful stories that educate our audience and position our clients as solution providers. Our unique ability to pair the right leaders with the right readers, through the right platforms, has made Mediaplanet a global content marketing powerhouse. Our award-winning stories have won the hearts of countless readers while serving as a valuable platform for brands and their missions. Just call us storytellers with a purpose. Please visit http://www.mediaplanet.com for more on who we are and what we do.
Press Contact:
Hailey Pedicano
hailey.pedicano(at)mediaplanet(dot)com