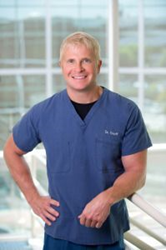 "There are several myths about this condition, so it's important to correct these common misconceptions to help men better understand the truths surrounding PPP," said Dr. Groff
SAN DIEGO (PRWEB) April 10, 2018
Pearly penile papules are flesh-colored or white small dome-shaped bumps that form around the rim and underside of the tip of the penis. They commonly appear in rows around the circumference of the penis. Statistics have shown that 30% of men will be affected by this skin condition.
Dr. Groff, a board-certified dermatologist and partner at Cosmetic Laser Dermatology in San Diego, believes that once men understand the facts about pearly penile papules they can make an informed decision about whether to have their pearly penile papules treated.
Dr. Groff's website (http://www.ppptreatment.com) is the only website in the U.S. that is created by a PPP specialist and is 100% focused on pearly penile papules.
"Most men are not well-informed about pearly penile papules. For that reason, I created this website to provide men with comprehensive information on this common skin condition," said Dr. Groff. "My website provides men all over the world a safe place where they can learn about their condition online, alleviate their anxiety, and decide what, if anything, to do about their PPP."
"When men see bumps on their penis, they fear they've contracted a sexually transmitted disease or that they have cancer or another serious illness," said Dr. Groff. "They may be too ashamed to see a doctor. However, anxiety about their appearance can adversely affect their sex life and prevent them from becoming intimate with a partner."
In addition to arousing fears about STDs or other illnesses, some men feel ashamed because they think having PPP reflects on their personal hygiene.
"One purpose of the website, said Dr. Groff, is to assure men that they did nothing to cause their PPP. The causes of this skin condition are unknown. However, we do know that pearly penile papules are a normal variant of penile skin and are more common in uncircumcised men in their twenties and thirties, although other men may be affected as well."
Some men are often too embarrassed to consult their doctor about pearly penile papules, which leads men to try over-the-counter or web-based creams, lotions, and DIY home remedies. Dr. Groff warns that by using home remedies, men risk making their condition worse by developing scarring issues, inflammation, loss of sensation, infection, bruising, numbness, and other serious side effects. Home remedies can cause permanent damage.
"Men need to realize that this skin condition is harmless and has no health risks, so treating pearly penile papules is not necessary and is strictly optional," said Dr. Groff. "However, some men with PPP may experience a great deal of anxiety and psychological stress concerning the appearance of their penis and decide to get the PPP removed, so they can feel more confident about their appearance. Men do not have to feel victimized by this skin condition when there is an effective, quick, simple, and painless treatment available to permanently resolve it."
"I have successfully treated more than 1,600 men with PPP," said Dr. Groff. "Medical case studies have proven that the only safe, effective, and permanent way to remove PPP permanently is with a CO2 laser that instantly vaporizes the papules."
The CO2 laser procedure is a fast and painless treatment that takes only 15 to 20 minutes but requires great skill on the part of the physician who must be a well-trained and have extensive experience removing pearly penile papules using the latest generation carbon dioxide CO2 laser.
Before the laser procedure, Dr. Groff applies a numbing creaming to the treatment area. His patients often express surprise that they felt no discomfort at all when their PPP were removed. Each papule is vaporized individually. Men can return to normal activities, including sex, within 7 to 10 days.
The PPP website includes a gallery that gives men an opportunity to view Dr. Groff's PPP before and after photos. It also provides PPP videos of Dr. Groff demonstrating the CO2 laser procedure to remove pearly penile papules on real patients.
Dr. Groff said, "My patients are thrilled when I eliminate their PPP in just one simple treatment. The CO2 allows me to give my patients results that are life-changing. It is very gratifying to be able to make a difference in their lives."
Dr. Groff's website could be a lifesaver for those men who think they have PPP but actually have an STD or more serious condition.
"Sometimes, men think they have PPP, but when they describe the symptoms, such as burning or pain, that's highly suggestive of a serious condition, such as an infection," Dr. Groff said. "This website not only arms men with knowledge about PPP but also directs them to seek medical care immediately if their penile bumps are symptomatic of something more serious."
On the PPP website, men can find answers to Frequently Asked Questions and a section that discusses the Facts and Myths about PPP. "There are several myths about this condition," said Dr. Groff, "so it's important to correct these common misconceptions to help men better understand the truths surrounding PPP."
Dr Groff is a partner at Cosmetic Laser Dermatology which is an esteemed cosmetic clinic located in beautiful San Diego, California and a member of the West Dermatology network. The team of board-certified dermatologists is committed to providing each and every patient with the highest level of care in a comfortable setting. Cosmetic Laser Dermatology's dermatologists are all highly respected in the field for their use of innovative treatments, involvement in advanced medical research, and continued participation in clinical trials.
For more information please visit http://www.CLDerm.com
Cosmetic Laser Dermatology
9339 Genesee Ave #300,
San Diego, CA 92121
(858) 943-2113
inquiries(at)CLDerm(dot)com