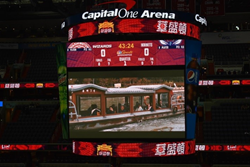 NEW YORK (PRWEB) April 09, 2018
Suzhou Tourism spent the holidays with the NBA's Washington Wizards this year as part of the team's annual Chinese New Year celebration. During the game against the Charlotte Hornets on Friday, February 23, Suzhou Tourism branding was prominently visible throughout the Capital One Arena in Washington, D.C., including a destination video that played on the scoreboard screen during team warm-ups; large-scale digital advertisements placed at the arena entrance and two VIP lounges; and logo placements around the court that were visible to more than 17,000 fans who were in attendance and more than 250,000 households via television broadcast.
Suzhou Tourism's presence in the national capital of the United States was also recognized by Washington Wizards' power forward Jason Smith, who donned a traditional Suzhou silk robe while posting about Suzhou from his Instagram account, reaching more than 27,000 followers. Banner advertisements also ran on the Washington Wizards website February 9 – 24 as part of the celebration.
The Washington Wizards Chinese New Year event is part of Suzhou Tourism's year-long "Made In Suzhou" social media campaign, which launched in June 2017. The campaign provides travelers with an in-depth exploration of Suzhou's signature tourism assets – cuisine, art, silk, and gardens. It spans Suzhou's digital and social media platforms and includes a four-part "master class" video series produced by well-known travel personality Kelley Ferro focused on these tourism assets; quarterly online contests and sweepstakes; a recent trip to Suzhou organized for three high-profile content creators; and rapidly growing Visit Suzhou channels on Facebook, Instagram, Twitter, and YouTube targeting the North American market.
Consumers interested in engaging with Suzhou and discovering its adventurous cuisine, masterfully created arts and crafts, rich silk making culture, and UNESCO World Heritage-designated classical garden can follow #TravelSuzhou and #MadeInSuzhou on social media and visit TravelToSuzhou.com. 
About Suzhou
Suzhou, the "Venice of China," is known for its elegant stone bridges, canals, flowing water, and noteworthy architecture. Located in the center of the Yangtze River Delta, approximately 70 miles west of Shanghai, Suzhou is one of the oldest cities in the Yangtze Basin dating back more than 2,500 years. The city boasts the beautifully manicured Classical Gardens of Suzhou, nine of which have been designated a UNESCO World Heritage Site, as well as 11 destinations along the Grand Canal that have also been designated world cultural heritage sites.
Each year, millions of tourists travel to Suzhou to experience the destination's more than 400 attractions, ranging from pagodas and temples to historical districts and world-class museums. As the largest industrial city in China, Suzhou continues to develop, such as the Suzhou Industrial Park (SIP), which boasts five-star hotels, the iconic Lake Jinji, and Asia's largest overwater Ferris Wheel.
Travel to Suzhou is easily accessible via three convenient area airports with non-stop flights from North America: Shanghai Hongqiao International Airport (SHA) offers bullet train service to Suzhou, which is approximately a 50-mile, 30-minute trip; Pudong International Airport (PVG) is approximately 65 miles from Suzhou, an hour and half drive; and Sunan Shuofang International Airport (WUX) is approximately 14 miles from Suzhou, a 30 minute drive. More information is available at http://www.TravelToSuzhou.com.