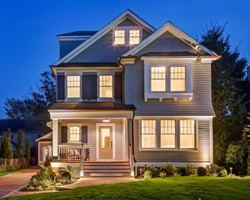 SPRING LAKE, N.J. (PRWEB) April 09, 2018
Atlantic Modular Builders and Apex Homes partnered to create a custom modular home nestled in the quiet seaside town of Spring Lake, NJ. The 3,000 s.f. Ocean Road Residence boasts 5 bedrooms, 4.5 baths, and a loft. Pristine red oak hardwood floors throughout provide a wonderful contrast to the fair palette of the interior. Quartz countertops in the kitchen offer a sleek and elevated finish and is matched by the white tile accents featured in the great room and bathrooms, pulling together a cohesive vision that maximizes the natural lighting that fills the home at every turn.
Other features include Andersen 400 series windows, a detailed custom trim package, Maibec cedar siding, half round copper gutters, Zuri composite decking, and a brick herringbone pattern driveway to provide the finishing touches on this modular gem. In addition, a matching detached garage was also built on-site.
About the Modular Home Builders Association:
The MHBA is the only national non-profit trade association exclusively serving the modular home industry. Each month the association selects a home from its members to highlight the advantages of modular construction. For more information on MHBA, modular homes, and the monthly contest, please visit http://www.modularhome.org.