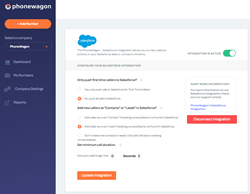 PhoneWagon has allowed me to grow my digital marketing agency by over 500% in the past 6 months.
NEW YORK (PRWEB) April 09, 2018
PhoneWagon, a top rated call tracking software company, today launched an integration with Salesforce. PhoneWagon's launch of the Sales and Marketing cloud integration will help marketers understand which marketing campaigns generate phone calls that turn into sales. It also gives sales teams deep insight into how the lead was generated.
PhoneWagon's Salesforce integration allows you to see all your phone calls (including marketing campaign, source, and keyword) directly inside Salesforce. When you receive a new call, PhoneWagon will create a new contact if the incoming phone numbers isn't already in your contact list. You can determine whether you want to create a contact or a lead. If they are already a contact, PhoneWagon will recognize this and simply add the call activity to the contact activity feed so you can view everything in one place. It's the best way for marketers and salespeople to leverage data and marketing insight to close more deals.
Ryan Shank, CEO of PhoneWagon, says that this integration came as a result of talking to hundreds of marketing agencies. The consensus was that they wanted to see where their inbound phone calls were being generated from. One agency was able to cut marketing costs by 50% by eliminating channels that weren't performing.
PhoneWagon's integration with Salesforce provides marketers the ability to view call data alongside web clicks and form submits. This integration allows you to quickly and easily pull call-recordings and other important analytics into your contact's activity feed.
"PhoneWagon has allowed me to grow my digital marketing agency by over 500% in the past 6 months. I can prove to my clients which marketing campaigns are generating phone calls in addition to web leads. This enables me to optimize marketing spend and deliver on a cost per lead that no one else in my industry is able to come close to," said Will Deane, founder and CEO of Unstoppable, a results-based marketing agency in Austin, TX.