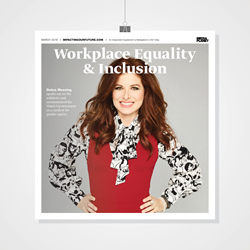 There's a spotlight being placed on workplace discrimination and harassment. Across all industries, women from different backgrounds are standing up and saying "Time's up!"
NEW YORK (PRWEB) April 06, 2018
Mediaplanet announced the launch of this March's edition of "Workplace Equality and Inclusion" This campaign will advocate for including the many ways inclusivity in the workplace can boost agility and sustainability.
The scope of this campaign is to educate and equip executives and managers with the tools needed to design and execute effective diversity and inclusion strategies, share information and resources through an international business network, and establish a global standard of quality in the field of diversity. This campaign will be published within USA Today in March 23rd as well as online.
The print component of "Workplace Equality and Inclusion" is distributed within USA Today in Chicago, Los Angeles, New York, Boston, and Washington DC/Baltimore markets, with a circulation of approximately 250,000 copies and an estimated readership of 750,000. The digital component is distributed nationally, through a vast social media strategy, and across a network of top news sites and partner outlets. To explore the digital version of the campaign, click here.
LGBT and women's rights activist Debra Messing graces the cover of the print publication. Through an exclusive interview on the interior, Debra Messing shares why Time's up for gender inequality.
This campaign was made possible with the support of the Debra Messing, Ford Motor Inc, Russell Reynolds Associates, Fannie Mae, National Diversity Council, Human Capital Institute, Great Place to Work, Society for Human Resource Management (SHRM), Hispanic Association on Corporate Responsibility (HACR), Society for Diversity, and AAPD ( American Association of People with Disabilities)
About Mediaplanet
Mediaplanet specializes in the creation of content marketing campaigns covering a variety of industries. We tell meaningful stories that educate our audience and position our clients as solution providers. Our unique ability to pair the right leaders with the right readers, through the right platforms, has made Mediaplanet a global content marketing powerhouse. Our award-winning stories have won the hearts of countless readers while serving as a valuable platform for brands and their missions. Just call us storytellers with a purpose. Please visit http://www.mediaplanet.com for more on who we are and what we do.
Press Contact:
Lauren Gandolfo
Lauren.gandolfo(at)mediaplanet(dot)com
(646) 922-1412