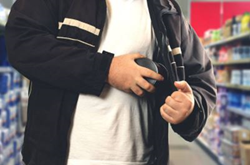 Now here's the tricky part: determining probable cause is a judgment call, and the only person making that determination is the security guard him-or-her-self.
WHEATON, Ill. (PRWEB) April 06, 2018
Anyone who's seen "Mall Cop" might be tempted to laugh if they're approached by a private security guard in a store or shopping mall, even if that person isn't riding a dorky Segway or wearing a ridiculous-looking helmet.
But they shouldn't take it so lightly: private security guards can make your life miserable if they suspect you of shoplifting or "retail theft," as it's technically known. First the good news: private store security personnel don't have anywhere near the powers of a sworn police officer; they can't "arrest" a suspected shoplifter and take them to jail, for example. But they do have the power to "detain" a suspect (i.e. physically prevent them from leaving the store or parking lot) if they have "probable cause."
HOW PROBABLE IS PROBABLE CAUSE?
Now here's the tricky part: determining probable cause is a judgment call, and the only person making that determination is the security guard him-or-her-self. Sure, there are guidelines but they vary dramatically from jurisdiction to jurisdiction. Generally speaking, however, the security person has to actually see an individual take merchandise from the shelf, then either conceal it or simply walk out of the door with it without paying. (In some jurisdictions, the suspect doesn't even have to walk out the door; they can be detained after they simply walk past the cashiers.) However, security personnel are apt to bend the rules if they think they will ultimately discover a person has indeed been shoplifting, even if they (the security guard) didn't observe the suspect in the act. They may think they'll have probable cause after-the-fact when they view store security camera video.
Whenever the security guard feels they have probable cause, they can detain the suspect. He or she can also escort the suspect to a separate room off the main shopping floor but legally can't require the suspect to stay there. Important point: at any time, the suspect can ask that the police be called and demand to speak with an attorney. This may be the best bet if the security guard didn't actually see the suspect steal anything but just thought they were acting suspiciously. In this case, the suspect may actually call their bluff and be released. (However, this is NOT a good idea if the suspect was caught with stolen merchandise hidden somewhere on their body.)
Another good idea is for the suspect to speak with an actual store employee, preferably a manager, and make the case that they are innocent and could make a big stink to the local media and on social media if they are further mistreated. This is probably the best tactic for someone who did not actually have any stolen merchandise concealed on their person when they were detained. If the store claims they have witnesses, the suspect is entitled to question these witnesses in order to determine their credibility.
COOPERATION (AND SOMETIMES HONESTY) IS THE BEST POLICY
Amazingly, some stores will not prosecute a shoplifter if they simply admit they had a moment of weakness. Instead, they may simply make you return the items to the shelf, issue a stern warning and ask that you never return. Other stores have been known to make the retail thief pay for the stolen items or some kind of fee, then let them go. However, if the police are called, and you are arrested, your first request should be to call an attorney.
Even if the suspect has been wrongly accused, becoming argumentative and belligerent is not a wise move. If a suspect truly feels their rights have been violated, staying calm, cool and collected is the way to go, as they will need to be released as soon as possible in order to hire a lawyer who can help them file a formal complaint either with store management, the police, the ACLU or some other organization. Becoming belligerent is a good way to get in more trouble that is separate and distinct from any bogus shoplifting accusation.
Happy Shopping!