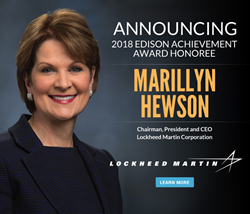 NEW YORK (PRWEB) April 09, 2018
Now celebrating its 31st year, the Edison Awards, recognized as the world's leading innovation award, today announced its 2018 Edison Achievement Award honoree. Marillyn A. Hewson, Chairman, President and Chief Executive Officer of Lockheed Martin Corporation, will be honored during a prestigious ceremony on April 11, 2018. The Edison Achievement Award honors distinguished business executives who have made a significant and lasting contribution to innovation throughout their careers and whose accomplishments serve as an inspiration to every industry and the world at large.
Marillyn Hewson started her career with Lockheed Martin over 30 years ago as an industrial engineer. She rose through the company taking on positions of increasing responsibility. In 2013, Ms. Hewson took over as CEO. She has since been named No. 3 on the Fortune "50 Most Powerful Women in Business." Ms. Hewson has also been recognized as a Top 10 "Businessperson of the Year" by Fortune, as one of the "World's 100 Most Powerful Women" by Forbes, and as one of the "Bloomberg 50" – the leaders who defined 2017. She has served on numerous boards and currently sits on the Board of Directors of DowDuPont; the Congressional Medal of Honor Foundation; and the Board of Governors of the USO. Ms. Hewson earned a B.A. degree in business administration and her Master of Arts degree in economics from the University of Alabama. She also attended the Columbia Business School and Harvard Business School executive development programs.
"It is an honor to accept the 2018 Edison Achievement Award on behalf of the scientists, engineers, and innovators of Lockheed Martin," Ms. Hewson said. "For more than 100 years, innovation has been our lifeblood. And we believe, as did Thomas Edison, that human ingenuity and transformative technologies can solve the world's greatest challenges."
"Marillyn exemplifies Thomas Edison's vision of bringing innovation to life and continues to deliver on her company's mission of engineering a better tomorrow. On behalf of our Steering Committee, we are honored to present her with our most prestigious award, the 2018 Edison Achievement Award," said Frank Bonafilia, Executive Director of the Edison Awards. "In addition to being one of the most influential women in business, Marillyn is creating an environment where innovative solutions are being developed in order to make the world a safer place."
About the Edison Awards™
The Edison Awards is program conducted by Edison Universe, a non-profit, 501(c)(3) organization dedicated to recognizing, honoring, and fostering innovation. The Edison Awards have recognized, honored and fostered innovation and innovators since 1987.
For more information on the Edison Awards history, nomination process and 2018 event details, visit http://www.edisonawards.com.