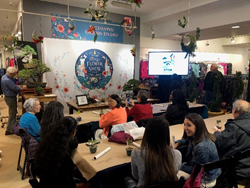 NEW YORK (PRWEB) April 10, 2018
Suzhou Tourism brought the beauty of the destination's classical gardens to San Francisco during complimentary bonsai workshops that were held at the annual Macy's Flower Show on Saturday, March 24 and Sunday, March 25. The hands-on sessions took place at the store's flagship location in Union Square (170 O'Farrell Street) in the Enchanted Garden Studio. Bonsai experts George Hass, Chris Ross, and Candace Key from Oakland's Bonsai Garden at Lake Merritt led the sessions, while a Suzhou Tourism representative provided the group with a detailed overview of the destination and shared more about its rich appeal through video and other dialogue. More than 60 attendees discovered the elegance of Suzhou-style bonsai trees, learned how to care for and cultivate the delicate plants, and took home an individual bonsai tree to continue practicing what they learned during the hour-long sessions.
To coincide with the event, Suzhou Tourism launched an online sweepstakes that invited consumers to enter to win a trip to Suzhou, where the itinerary will include the destination's signature activities such as a garden tour, a visit to the No. 1 Silk Factory, a dumpling making class, and calligraphy instruction. The prize also features roundtrip airfare for one from a major North American gateway city, three nights of hotel accommodations, and a fully-guided tour of the destination including a visit to some of its famous gardens. Consumers can enter the sweepstakes at http://www.traveltosuzhou.com/bonsaisweepstakes now through 11:59 p.m. on April 13.
The sweepstakes is part of Suzhou Tourism's year-long "Made In Suzhou" social media campaign, which launched in June 2017. The campaign provides travelers with an in-depth exploration of Suzhou's signature tourism assets – cuisine, art, silk, and gardens. It spans Suzhou's digital and social media platforms and includes a four-part "master class" video series produced by well-known travel personality Kelley Ferro focused on these tourism assets; quarterly online contests and sweepstakes; a recent trip to Suzhou organized for three high-profile content creators; and rapidly growing Visit Suzhou channels on Facebook, Instagram, Twitter, and YouTube targeting the North American market.
Consumers interested in engaging with Suzhou and discovering its adventurous cuisine, masterfully created arts and crafts, rich silk making culture, and UNESCO World Heritage-designated classical garden can follow #TravelSuzhou and #MadeInSuzhou on social media and visit TravelToSuzhou.com. 
About Suzhou
Suzhou, the "Venice of China," is known for its elegant stone bridges, canals, flowing water, and noteworthy architecture. Located in the center of the Yangtze River Delta, approximately 70 miles west of Shanghai, Suzhou is one of the oldest cities in the Yangtze Basin dating back more than 2,500 years. The city boasts the beautifully manicured Classical Gardens of Suzhou, nine of which have been designated a UNESCO World Heritage Site, as well as 11 destinations along the Grand Canal that have also been designated world cultural heritage sites.
Each year, millions of tourists travel to Suzhou to experience the destination's more than 400 attractions, ranging from pagodas and temples to historical districts and world-class museums. As the largest industrial city in China, Suzhou continues to develop, such as the Suzhou Industrial Park (SIP), which boasts five-star hotels, the iconic Lake Jinji, and Asia's largest overwater Ferris Wheel.
Travel to Suzhou is easily accessible via three convenient area airports with non-stop flights from North America: Shanghai Hongqiao International Airport (SHA) offers bullet train service to Suzhou, which is approximately a 50-mile, 30-minute trip; Pudong International Airport (PVG) is approximately 65 miles from Suzhou, an hour and half drive; and Sunan Shuofang International Airport (WUX) is approximately 14 miles from Suzhou, a 30 minute drive. More information is available at http://www.TravelToSuzhou.com.
About the Macy's Flower Show
For more than 70 years, Macy's Flower Show has delighted generations of floral aficionados with over-the-top presentations of lavish gardens that showcase millions of live flowers, plants, and trees from around the globe. Native to many different landscapes, Macy's Flower Show features floral material blooming in unison despite their unique climatic DNA. Taking root in unexpected settings such as store countertops, windows and specially-designed architecture, including grand bridges, columns, and topiaries, Macy's Flower Show is staged in unique fashion at each of the three locations nationwide – New York, Chicago, and San Francisco. More information is available at http://www.macys.com/flowershow.