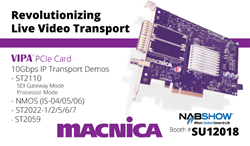 SOLANA BEACH, California (PRWEB) April 07, 2018
Macnica Technology, a leader in live video over IP transport technologies, today announced it is exhibiting at NAB Show in Las Vegas on April 9-12 showcasing its ST2110 and NMOS solutions on its VIPA™ 10G PCI Express card.
Macnica's full NMOS (Network Media Open Specifications) portfolio includes the following:

IS-06 Network Controller
IS-05 Device connection management
IS-04 Registration and Discovery Protocol
Macnica's NAB ST2110 video transport demos include:

VIPA™ PCI Express cards as ST2110 end points operating in SDI Gateway mode together with its SDI Extender option boxes
VIPA™ PCI Express card in its processor mode performing video transport interface function for video processing of ST2110 IP streams
Please visit Macnica booth at booth #SU12018 at NAB Show in Las Vegas for more details.
About Macnica
Macnica Technology, a division of the $4B Macnica Group, offers products that implement the ST2110, ST2022, and Sony IP Live protocols for moving live, high-definition and 4K video over standard IP (Ethernet) networks. Macnica leverages its video and high-speed networking expertise to develop superior products and intellectual property for the broadcast, pro-AV, and high-speed networking industries. Find out more about the new VIPA card and Macnica's video over IP transport portfolio at http://www.macnicatech.com.