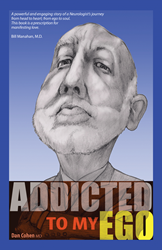 MINNEAPOLIS (PRWEB) April 11, 2018
"Addicted to My Ego" centers around the personal journey of a head-centric Neurologist to a heart-centered human as explored through author, Dan Cohen, MD's own search for higher truth and meaning in life. With Cohen's previous business experience as the Licensor of the Breathe Right® nasal strip and through his new invention of the SolTec® Lounge, Cohen learned how to dramatically reduce the negative effects of his ego toward becoming one with his higher self as he discovered addiction to ego is everyone's core addiction in varying degrees.
The book reveals how addiction to ego is the source for all fears, painful emotions, addictions, and unhappiness and how at its core, ego believes it is unlovable and unworthy. To counteract this belief, it is addicted to approval-seeking and avoidance behaviors. This preoccupation reduces the ability to perceive and experience a higher self which results in profoundly limiting love and all its expressions. The terms ego and higher self are displayed in the book through a dialogue to help readers understand the interplay between the two.
To further his own spiritual progress, Cohen describes his accelerated spiritual development with technology he developed to induce profound states of meditation to reduce ego and experience one's higher self directly. The Neuro-Energetic Integration Technology was developed to quiet the brain and lower mind and better integrate a person's spiritual self or higher mind with their nervous system resulting in greater awareness, mindfulness, happiness and health. The technology is utilized in Cohen's latest invention, the SolTec® Lounge through synchronized sound, vibration and magnetic stimulation.
"Addiction to ego is truly the root of all of our issues – it's really that simple," Cohen said. "I have also developed technology, based on my neurologic and spiritual understandings that the public will benefit from. I believe this book does a nice job of reframing ego versus spiritual self in an easy, example-driven format, with helpful tools to assist in moving beyond ego-identification.
A successful businessman, Cohen uses his own life as an example of how almost everyone is ego-identified and how they can change their self-identification, understand their own ego and its function. By taming ego and integrating with one's higher self, readers can be much more effective with others and successful in creative endeavors.
To learn more please visit: http://www.addictedtomyego.com.
"Addicted to My Ego"
By Dan Cohen, MD
ISBN: 978-1-5043-9289-1 (sc); 978-1-5043-9132-0 (e)
Available on Amazon, Barnes and Noble and AddictedToMyEgo.com
About Dan Cohen, MD
Dan Cohen, MD, is an accomplished Neurologist, inventor, serial entrepreneur and author. Previously, he co-founded CNS Inc. a developer and marketer of hi-tech medical equipment (brainwave monitors and sleep disorders diagnostics) and consumer products. CNS was best known for the Breathe Right® nasal strip and FiberChoice™ chewable fiber supplement and were acquired by GlaxoSmithKline in 2006. Dr. Cohen has a BS from Penn State and MD from Temple Medical School. He trained in Neurology at the University of Minnesota Hospitals and Clinic and is a Diplomat of the American Board of Psychiatry and Neurology.