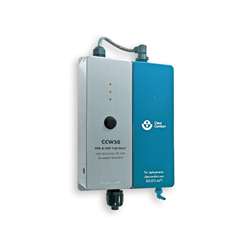 Clear Comfort is thrilled to bring its proven technology to a new set of customers.
Boulder, Colorado (PRWEB) April 10, 2018
Clear Comfort introduces the innovative CCW50, the company's newest, non-chlorine sanitation system specifically for spas. Homeowners can now enjoy a healthier, easier and more enjoyable spa experience. Pre-orders are being taken immediately and general availability will begin in May 2018.
For over 30 years, spas have relied on combinations of harsh chemicals and caustic ozone systems. Today's announcement brings an entirely new class of sanitation to portable spas and hot tubs. Clear Comfort's direct hydroxyl injection system simplifies spa maintenance, while providing outstanding silky, clean water without the annoying odors associated with older technologies.
"Hydrotherapy customers present a multitude of needs for rehabilitation and training. Clear Comfort systems complement HydroWorx's offerings by delivering exceptional water quality," said Chad Bauer, Director of Field Operations of HydroWorx. "We are excited to bring our customers the best water for our leading hydrotherapy systems."
The CCW50 is the newest addition to Clear Comfort's family of hydroxyl-based advanced oxidation (AOP) systems, and marks the company's expansion to portable spas and hot tubs. These systems have been proven to provide the best care for all type of water from spas to waterparks. Clear Comfort systems are enhancing the water experience for professional athletes, homeowners, commercial facilities and now spa owners.
"Clear Comfort is thrilled to bring its proven technology to a new set of customers," said Steve Berens, CEO of Clear Comfort. "Spa and hot tub owners have been looking for reliable water care that requires minimal effort and allows for maximum enjoyment. We are proud to work with multiple strong partners and look forward to all spa owners enjoying the best possible water."
Spas are uniquely susceptible to water problems due to high bather loads. Customers quickly take note when water challenges arise. In a 2017 market launch test, 60 percent of customers chose to upgrade their spas to a Clear Comfort treated spa, even with an average 20 percent price increase.
Clear Comfort's advanced oxidation systems use the power of hydroxyl radicals to make residential pool and spas safe and enjoyable for today's health-conscious homeowners. Pools and spas using Clear Comfort can have the best water quality possible with minimal chlorine use. Clear Comfort systems are in leading universities, resorts, water parks, YMCAs, hotels, recreation centers, spas and homes nationwide.
The new CCW50 spa system provides:

Capability to achieve chlorine-free spa water;
Safe treatment for most spas circulating up to 35 Gallons Per Minute (GPM);
An easy five-minute cartridge exchange that lasts a year or more;
A 30-day money-back guarantee;
A three-year system warranty;
Protection against of Cryptosporidium parvum and other Recreational Water Illnesses (RWIs);
Reduction of harmful disinfection byproducts.
About Clear Comfort
Clear Comfort manufactures and sells low-chlorine and chlorine-free pool and spa water treatment systems. Clear Comfort's hydroxyl-based advanced oxidation systems provide the best swimming experience available with its non-toxic, non-chlorine treatment. With headquarters and manufacturing in Colorado, Clear Comfort customers receive a sustainable, "Made in the USA" product. Clear Comfort is a proud Certified B Corp doing business as a force for good. For more information about Clear Comfort, please visit clearcomfort.com.
About HydroWorx
HydroWorx specializes in designing, manufacturing, and marketing the world's finest water therapy and conditioning equipment for the sports, healthcare, eldercare and fitness markets. The company leads the industry in scientific research and data supporting the therapeutic and rehabilitative properties of water therapy. HydroWorx has sold products in 50 states and nine countries. Among its extensive and elite client list are: Dr. James Andrews, renowned orthopedic surgeon; the Super Bowl champion New Orleans Saints, the U.S. Navy Seals, NASA, the Kennedy Krieger Institute, Manchester United, Nike, the NHL champion Pittsburgh Penguins, the NCAA men's basketball national champion Duke University, Notre Dame and Appalachian State. To learn more about HydroWorx, please visit hydroworx.com.