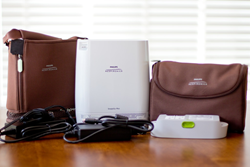 Las Vegas Medical Store, based in Las Vegas Nevada, has gained the reputation of a very reliable provider of medical equipment in area specializing in oxygen concentrators by world-renowned manufacturers like Philips Respironics and Inogan.
LAS VEGAS (PRWEB) April 09, 2018
Las Vegas Medical Store , a Nevada based medical equipment specialist best known for their affordable and technically advanced oxygen concentrators, keeps introducing new devices to their inventory to make life easier for patients suffering from respiratory disorders. They believe in making affordable solutions available to a wide variety of patients who are suffering from COPD and other disorders to improve their quality of life and make them as much independent as they can be.
Recently a company spokesperson told the media about the latest addition to their collection of oxygen concentrators; SimplyGo Portable Oxygen Concentrator from Philips Respironics. It is designed like a non-medical device from the outside, which is extremely easy to carry and comes with an easy-to-hold handle. From the inside, it is a powerful oxygen concentrator offering a continuous flow of 1 or 2 LPM and pulse dose of 1-6 LPM equivalent of supplemental oxygen. It is suitable for people of all age groups and especially the elderly.
The patients will be able to fold up their new oxygen concentrator as it comes with a mobile cart and carry it like a briefcase. It can also be taken as a carry-on bag on most airlines as it has been FAA approved for commercial airline travel. The product comes with a 2 year warranty, which shows its reliability and effectiveness. Its lightweight design and compact battery size are some of its most attractive features as people usually look for compact size in portable oxygen concentrators.
The team at Las Vegas Medical Store was very excited about this new addition to their inventory as they are always striving to come up with powerful and highly effective solutions for their customers. This new device has been received with much appreciation and exceedingly positive feedback by the users. Patients who are dependent on a continuous oxygen supply to carry on with their daily activities are encouraged to buy this device to make their life even easier and more mobile.