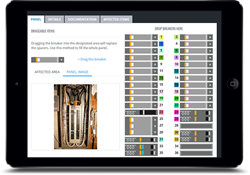 "Only a few products ultimately gain approval. SmartCSM proved to be the very definition of what we are looking for."
Torrance, CA (PRWEB) April 10, 2018
IBEW is featuring SmartCSM in their Hour of Power an online video magazine that is designed to highlight the pride, professionalism and success of the IBEW. The program is dedicated to introducing innovative technologies in the electrical services field. SmartCSM exemplifies the innovation IBEW seeks in a increasingly changing electrical services field. SmartCSM's secured IBEW's Hour of Power attention because of it's easy to use technology which helps electricians deliver a digital view of their completed electrical work and their customer's building electrical infrastructure.
"Everyone in the electrical industry wants to have their products featured on HourPower simply because it is such a credible resource" said Host of Hour of Power, Matthew Walton, "Only a few products ultimately gain approval. SmartCSM made it through our rigorous vetting process almost immediately. The IBEW looks for several factors when deciding which products to feature. The most important question we ask ourselves is 'will this help our members do a better job?' SmartCSM proved to be the very definition of what we are looking for."
SmartCSM's software allows the IBEW Brotherhood to turn old school electrical panels into online accessible digital panels where they can access critical data in the field, or data that would normally be hidden in a three-ring binder or completely inaccessible in a disorganized plan room. The software helps the electrician determine what type of Personal Protection Gear they need to wear, what tools they need to have with them, and where critical information is the moment they need it. It is helps electricians in the field move from paper to digital management of the electric panels and assets they work on.
"SmartCSM saves you and your company time, money, and lives. By organizing this confusing electrical infrastructure into an interactive visual database available on nearly any device, we create an environment where an IBEW member can access critical data with the click of a mouse or the slide of a finger on a tablet", says SmartCSM, Craig Caryl, "You can instantly see which circuit affects what area of the building, or what machinery will go offline when you shut that transformer down."
SmartCSM was created working directly with an IBEW member who aided the software development of exactly what the electrician required and how they needed that data delivered. SmartCSM was developed through thousands of hours in the field developing, building, and testing the software in real world situations. Universities like California State University Dominguez Hills, Municipalities like The City of Manhattan Beach, Nonprofits like Salvation Army, and many other companies across America are embracing the technology in their move from paper to digital management of their electrical infrastructure.
About IBEW: The International Brotherhood of Electrical Workers (IBEW) is a labor union that represents nearly 750,000 workers and retirees. Founded in 1891, IBEW is one of the most credible organizations in America; especially within the electrical infrastructure space. IBEWHourPower.com is an online video magazine designed to highlight the pride, professionalism, and success of the International Brotherhood of Electrical Workers. IBEW Hour Power was created to increase the professional bond between IBEW members and to showcase their work and contribution to the fabric of America.
About SmartCSM:
SmartCSM is a cloud-based software platform that helps make buildings smarter. Today's building electrical infrastructure is disconnected, offline and poorly serviced. SmartCSM creates any easy-to-use digital as-build of a building's electrical infrastructure allowing operators to easily move their electric panels and assets from paper to online management. SmartCSM empowers building operators and field technicians to more transparently and proactively manage their buildings resulting in reduced operating costs as well as reduced risk and waste. SmartCSM customers include some of the largest building operators and technicians in the country include Berg Electric, Raytheon, United Airlines, Children's Hospital OC, The Salvation Army, The City of Manhattan Beach, Cal State University Dominguez Hills.
©2017 SmartCSM Software, Inc. All rights reserved. SmartCSM, the SmartCSM logos, and the SmartCSM product and service names mentioned herein are registered trademarks or trademarks of SmartCSM Software, Inc. or its affiliated entities. All other trademarks are the property of their respective owners.