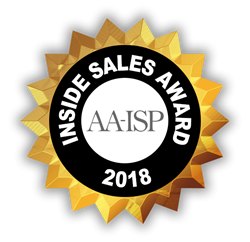 Inside / Digital Sales continues to grow both in numbers and responsibility around the globe. Companies of all sizes and industries are relying more than ever on our industry to provide revenue growth.
(PRWEB) April 09, 2018
AA-ISP (The Global Inside Sales Association), recognized leading Inside Sales professionals, organizations, and service providers during the Awards Gala at the 10th Annual Leadership Summit on April 4th.
The Leadership Summit was held at the Sheraton Grand in Downtown Chicago, Illinois, and featured presentations from more than 80 of today's most recognized Inside Sales experts and honored top individuals and organizations that have made a significant impact to the Inside Sales profession during the past year in a variety of categories.
"Inside / Digital Sales continues to grow both in numbers and responsibility around the globe. Companies of all sizes and industries are relying more than ever on our industry to provide revenue growth. The AA-ISP feels it's important to recognize individuals and organizations who provide value to and give back to our community based on a peer-nomination and rating process. The AA-ISP proudly honors these individuals and organizations at the Annual Leadership Summit," said Bob Perkins, AA-ISP Founder and Chairman.
2018 Awards Recipients Include:
Top 25 Most Influential Inside Sales Professionals
The AA-ISP is please to recognize the following individuals who have lead our industry and were nominated by their peers:

Lauren Bailey, Factor 8
Jason Blais, ZipRecruiter
Mike Brooks, Mr. Inside Sales
Chad Burmeister, ScaleX.ai
Dave Elkington, InsideSales.com
Marina Garcia, Internet Brands
Marc Gonyea, Memoryblue
Richard Harris, Richard Harris Consulting
John Healy, Factor 8
Ken Jisser, The Pipeline Group
Phill Keene, Costello Inc.
Gabe Larsen, InsideSales.cm
Scott Leese, Qualia
Tom Leidigh, Infinity
Mario Martinez, Jr., Vengreso
Kelly Molander, Siemens
Gabriel Moncayo, AlwaysHired
Laurie Page, The Bridge Group
Ed Porter, Sysco Guest Supply
Steve Richard, ExecVision
Doug Roseborough, Oracle
Mark Ruthfield, Zaius
Blair Smith, Kyriba
Thomas Parbs, TZA
Paula White, Sarvona
Annual Member Awards
The AA-ISP honored the following individuals and organizations for their outstanding contribution to Inside Sales:

Excellence in Execution (AA-ISP Chapter) – Silicon Valley & Indianapolis
AA-ISP North American Chapter of the Year- Columbus
AA-ISP APAC Chapter of the Year- Gurgaon & Noida Chapter
AA-ISP APAC Chapter of the Year- UK - London
Corporate Culture – Memoryblue
Spirit Award – Dave Brown, Redvector
Innovator Award – Katie Azuma, Infor
Excellence in Execution – Ed Porter, Sysco Guest Supply
Executive of the Year- Robert Beattie, Thomson Reuters
Lifetime Achievement- Tom Dekle, IBM
AA-ISP Scholarship Program
The AA-ISP Scholarship Program recognizes AA-ISP members and members of their immediate family who are pursuing a sales or business degree from an accredited college, university, or institution of higher education.

Josh Statly, Student at Central Michigan
Service Provider Awards
Each year, the AA-ISP recognizes the top service providers nominated by users in the AA-ISP Service Provider Directory. Nominees are selected by AA-ISP members, and users are encouraged to provide an evaluation of their experience with the various service providers via an online assessment process. Service providers with the most positive and consistent ratings on the Service Provider Directory are recognized across a variety of categories. 2017 Winners include:

Service Provider (Training & Development) – Factor 8 Training
Service Provider (Outsourced – Productivity Services) – ConnectAndSell
Service Provider (Outsourced Sales) – Infinity
Service Provider (Sales Productivity) – Zoho
Service Provider (Conversation Analytics) – ExecVision
Service Provider (Sales Script Development) – Mr. Inside Sales
Service Provider (Sales Acceleration) – InsideSales.com
View all winners and categories on the AA-ISP Awards Page.
About the AA-ISP
The AA-ISP, the global Inside Sales association and our industry's most trusted and respected resource for everything Inside Sales, is dedicated exclusively to advancing the profession of Inside Sales. The association engages in research studies, organizational benchmarking, and leadership roundtables to better understand and analyze the trends, challenges, and key components of the growth and development of the Inside Sales industry. Our mission is to help Inside Sales representatives and leaders to leverage our information and resources through published content, local community Chapters, global conferences, career development, and an Inside Sales Accreditation program.
For more information on AA-ISP, please visit http://www.aa-isp.org or follow the company on Twitter @AA_ISP.