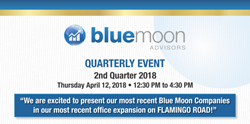 Las Vegas, Nevada (PRWEB) April 09, 2018
Blue Moon Consortium, Inc., doing business as "Blue Moon Advisors," will present its most recent completed projects that have received the Company's proprietary Capital Readiness Report score of 925 or higher at the Quarter 2 event. The event will take place at their newest office expansion in Las Vegas on April 12, 2018, from 12:30 PM to 4:30 PM at 3505 East Flamingo Road #3, Las Vegas, NV 89121. Individuals interested in the Blue Moon Advisor process or meeting the newly "fund-ready" companies are welcome to attend.
Blue Moon Advisors is most known for its objective and subjective software system that analyzes business opportunities called the "Capital Readiness Report," or "CRR." This is a process that has proven more than 75% effective in predicting the ultimate success of a venture during its seed, startup, and growth stages. Developed by Blue Moon Advisors during nine years of research closely tracking approximately 300 companies seeking capital, the CRR is a deliverable diligence tool for entrepreneurs and capital providers.
Event details is below:
Date: April 12, 2018
Time: 12:30 PM to 4:30 PM
Location: 3505 East Flamingo Road
Las Vegas, NV 89121
*Complimentary lunch will be provided
The quarterly event will discuss Blue Moon Advisors CRR software development and the long-awaited release of Tony Drexel Smith, the CEO of Blue Moon Advisors', newest book – "Business Capital 101." The book is a physical and virtual presentation of business finance documents in support of early stage, seed capital and growth companies seeking capital. The book organizes all elements of the Capital Readiness Report process into the delivery of the materials that investors and lenders need to make an informed decision. Further, the book includes a breakdown of the Capital Readiness Report broken down in the first 21 pages.
The 200-300-page books also include the entire financial package in one document. That includes (1) Business Canvas; (2) Market Study; (3) Competitive Analysis; (4) Summary of the Offering; (5) Financial Model; (6) Business; (7) Valuation; (8) Presentation Deck; (9) Offering Documents; (10) Exit Strategy.
Blue Moon Advisors also replicates the physical documents into a virtual data room so that all materials may be made current, updated monthly, and are easily accessible to investors and lenders. The virtual product is known as the MVP, which is a monthly subscription model. The company will update documents annually and review the CRR quarterly for $199 per month. Other monthly programs can expand upon the client's needs to include monthly document updates and online CRR Score updates.
At the firms first quarter event, eight companies that received their Capital Readiness Report Certificates showing they achieved a 925 score or higher. All companies had their entire financial package ready for investors to review. Some have already raised capital since achieving the score, which is a testament to the success rate of the Company's proprietary system.
About Blue Moon Advisors
Blue Moon Advisors is a business finance consulting firm that serves high net worth individuals, family offices, private equity funds and venture capitalists in support of financing early stage, growth, Nano to small-cap companies. The Company provides three primary products: (1) The Capital Readiness Report, a due diligence tool; (2) Business finance documents packaging (The Blue Moon Book); (3) The Management Virtual Portal (MVP). Currently, the Company has five offices with four locations in the United States and one in Canada.