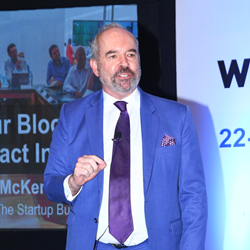 You need to ensure whatever your blockchain business case is, it must solve a big problem – that's how you will achieve your ROI
Sydney, AUSTRALIA (PRWEB) April 10, 2018
One of the global blockchain experts at the Conclave, hosted by 1.21.gws, was Dr Ross McKenzie, Founder & CEO of The Startup Business, and leading expert authority of The New Economy Business.
"You need to ensure whatever your blockchain business case is, it must solve a big problem – that's how you will achieve your ROI", says Dr McKenzie, who challenged delegates to ask themselves that same question.
"Far too often I am seeing startups and businesses, pour large amounts of money into projects that at the end of the day, deliver nothing. You must focus on solving a big problem, then technology follows. But when you do this, you must also become a disruptor, in that your solution to this big problem, your 'big idea', must be unique and make a huge impact if you want to be successful in the longer term", Dr McKenzie cautioned.
While blockchain enables the decentralisation of processes based on an 'open ledger', and allows transparency whether that be providence or single source of truth, currently today there remains limitations to this technology, particularly in terms of speed and scalability.
So even though blockchain has been around for ten years (the same platform the Bitcoin is based on), it is only now we are seeing the user cases beyond Bitcoin and cryptocurrency, which are starting to address some of these limitations.
For example, the renewable energy sector is embracing blockchain to provide community-based co-op style markets. Or supply chains addressing problems such as counterfeiting and fraud, from farm gate through to shop window. Even the huge retailer Walmart, has recently patented a blockchain solution to take into consideration autonomous or robotic delivery vehicles and drones.
One of the reasons why The Startup Business and its business partners at Phykon Solutions (an Indian based global outsourcing and robotic process automation company) has invested into understanding how blockchain technologies are changing the rules of business, is that their clients needed a trusted partner to help them navigate through this fast-evolving technology.
"One of the first things we do for our clients, is to sit down with them and have a conversation about how we see their industry changing over the next three to five years. While we may not always be correct with our predications, this conversation nevertheless, serves as a catalyst to help our clients start looking beyond from what is just in front of them today", says Dr McKenzie.
Clearly though, what is in agreement by these global blockchain experts, is that the genie is out of the bottle and whatever evolution blockchain 2.0 takes, there is no turning back.
About The Startup Business
The Startup Business helps professionals, entrepreneurs, startups, and small to medium sized enterprises, to setup, scale & sustain their businesses in this age of The New Economy.
Providing business & technology education, entrepreneur mentoring & coaching, startup & business advisory, plus automation and outsourcing services, The Startup Business was founded by the current CEO, Dr Ross McKenzie, a leading expert authority on The New Economy Business, and has its head office based in Sydney Australia, plus operational locations in Trivandrum and Bengaluru India, through its partner organisation, Phykon Solutions.
In addition, Dr Ross McKenzie maintains a collaboration with Paris based DiG Business Learning, a specialist in experiential style learning for business executives, co-founded by Professor Jean-Claude Larréché Professor of Marketing at INSEAD and Yvette Roozenbeek, to encourage innovation in the organisation.
Dr Ross McKenzie is also a Microsoft Global Brand Ambassador and a major social media influencer.
Contact Dr Ross McKenzie & The Startup Business to learn how to launch your big idea.