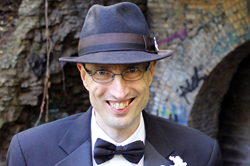 At turns moody and soulful, noisy and weird, funky and righteous, A Wild Liberty is a joy to experience... Whether you let the sounds wash over you or take this as a call to action, you'll want to immerse yourself in the soundscape... --Mark Katz, UNC Chapel Hill, author of Groove Music
(PRWEB) April 13, 2018
Indie electronic/ambient artist Jj Kidder (formerly of Zurround, Eyes to Space and Anode Glow) will debut "A Wild Liberty," his first new album since 2015's "How to Tell Chaos from Anything Else," on Earth Day 2018 (Apr. 22).
Kidder's new effort is a collaboration with writer and environmental geologist Grant A. Mincy, featuring his essay "A Wild Liberty: The Sixth Mass Extinction." The music was composed over the course of two years, and matched to the narrative flow of the essay, with instrumental tracks that range from avant-garde/noise composition and abstract hip-hop to ambient music.
"A Wild Liberty" uses playful and inventive instrumentation – including modular and keyboard synthesizers, sampling, electric piano, drums and hand percussion. Following the essay's three sections, the album takes a long view of earth's climatic history, mining in Appalachia, E.O. Wilson's proposal of re-wilding the Earth, and how humankind's cities could be transformed to exist in harmony with the environment.
Advance Reviews
"With A Wild Liberty, Jj Kidder offers a powerful meditation on the deep environmental and cultural impacts of resource extraction and consumption in the anthropocene. Through a series of evocative electronic and natural soundscapes, Kidder seems to be calling for a radical revisioning of human interaction with the natural world. But, far from a naive call to "return to the land," A Wild Liberty reveals that our collective relationship with the natural world will require deliberate, sustained, and compassionate attention to repair."
--Travis Stimeling, West Virginia University, author of "Music, Place, and Identity in the Central Appalachian Mountaintop Removal Debate"
"At turns moody and soulful, noisy and weird, funky and righteous, A Wild Liberty is a joy to experience... Whether you let the sounds wash over you or take this as a call to action, you'll want to immerse yourself in the soundscape..."
--Mark Katz, UNC Chapel Hill, author of Groove Music: The Art and Culture of the Hip-Hop DJ, editor of the Journal of the Society for American Music
About Jj Kidder
Minnesota-born Jj Kidder has played organic electronic music since 1988, marrying diverse influences from Prince to John Cage. He has played at the Wave Gotik Treffen in Leipzig, Germany with darkwave indies Dies Irae, as well as for Church of the SubGenius X-Day Drill with Minneapolis improvisational techno group, Zurround. After moving to North Carolina, Kidder started Chapel Hill nerd rock band, Eyes To Space, and played legendary venues in New York City and the Triangle with his cinematic electronics and thunderous drumming in Anode Glow. Kidder has also produced a short film "Strings Attached: the Authorized Video," with Jaghetto the Puppet Master (a.k.a Tarish Pipkins), has DJed on WXDU, Durham, and released two previous solo albums, "/style" ("end style") and "How to Tell Chaos from Anything Else."
Contact Jj Kidder to learn more about "A Wild Liberty" and request a review copy.