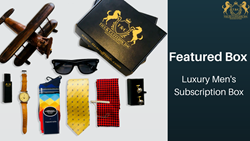 We set our sights on providing consumers with an affordable way to own an amazing collection of quality luxury products, delivered monthly, under $30, with a guaranteed value of over $150 in every box. Join us in this revolution.
NEW YORK (PRWEB) April 11, 2018
How would you define a perfect outfit for men? You're probably thinking of well known brands, high quality materials and expensive price-tags, but are those high prices really necessary? These were the questions that prompted the creation of Featured Box, the world's first luxury men's subscription box under $30.
Featured Box team partnered with designers and manufacturers in Europe, U.S. and Far East to deliver the best quality products to consumers. Our ties and cufflinks are produced by the established manufacturers.
We set our sights on providing consumers with an affordable way to own an amazing collection of men's accessories, delivered monthly. You can get 6 months of Featured Box products for the price of branded tie, explains Featured Box co-founder Jason Golani. It's clear that we have tapped into what the people wanted.
It also addresses common complaints about lack of options for men's accessories. Each box is custom curated by top stylists at Featured Box, keeping the consumer and the latest trends in mind. Featured Box members will receive 6-8 men's accessories and cool gadgets every month, adding to the surprise factor.
Featured Box is slated to be offered in three subscription options, monthly, quarterly and annual. Additional Attributes Include:

Ties designed in Paris, 100% Premium Silk
Sunglasses 100% UV Protection
Socks Premium quality comfortable mercerized and combed cotton
Durable and stylish metal cufflinks, lapel pin and tie clips
New Men's Cologne every month with classic notes such as spicy, earthy, floral, musk and wood
High quality watch with leather or steel strap, designed for active individuals Surprise gadgets every month.
Featured Box has differentiated themselves from most Kickstarters by readying their manufacturing facility ahead of time, and are almost ready to produce at the time of this press release, ensuring that the products are ready for the market within months of crowdfunding completion.
How Membership Works
Featured Box is a monthly subscription box for men's accessories. Featured Box selects from a variety of looks, which are delivered in a signature stylish black box every month. Featured Box is an all-inclusive solution for men's accessories, featuring each month's best styles and delivered right to your door. Shipping is free within continental U.S. Membership is flexible and can be discontinued at any time. In a year's time, members receive 12 stunning boxes. As the member collection grows, so does their relationship with Featured Box, as Featured Box learns more about what members like and strive to deliver top quality products to its subscribers.
About Featured Box
Featured Box (Trademarked) is a subsidiary of Ties & Cufflink LLC (T&C). T&C has a robust fan following on Facebook, Twitter and Instagram. The company was started by Ash and Jason Golani who have a passion for creating stylish men's ties, cufflinks and accessories. Over the years, they have partnered with several top designers and manufacturers to produce stunning men's accessories. The company is based out of New York, NY
Featured Box will be available on Kickstarter April 16th, 2018.