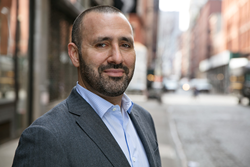 "Josh is a long-time, friend, advocate and supporter of our work to right the wrongs of our criminal justice system,:" said Maddy deLone, executive director of the Innocence Project.
NEW YORK (PRWEB) April 10, 2018
The Innocence Project announces its first-ever Ambassador Advisor- Attorney and Justice Advocate Josh Dubin.
Dubin is recognized as one of the most preeminent and sought-after legal strategy consultants in the U.S., having earned high praise from leading and accomplished members of both the civil and criminal bars. He is president of Dubin Research and Consulting, Inc. (DRC), http://www.dubinconsulting.com a Manhattan-based consulting firm that specializes in jury selection, persuasive visual aids, and trial strategy for complex civil and criminal matters.
Dubin is also co-author, along with former United States Federal Judge Nancy Gertner, of The Law of Juries for Thomson Reuters. An attorney and member of the Florida Bar, he regularly works with some of the most successful attorneys and law firms in the country.
The Innocence Project, founded in 1992 by Peter Neufeld and Barry Scheck at Cardozo School of Law, exonerates the wrongly convicted through DNA testing and reforms the criminal justice system to prevent future injustice.
Since 2004, Dubin has been a generous supporter and a significant partner in raising funds and awareness for the Innocence Project. In recognition of the Innocence Project's 25th Anniversary, last year he persuaded former President Obama to send a letter of appreciation that was read at the Innocence Project's annual gala. He has many friends and connections in the sports and entertainment world and is eager to leverage those contacts to build public support for the Innocence Project's vital work to free the innocent and reform the criminal justice system.
"Josh is a long-time friend, advocate, and supporter of our work to right the wrongs of our criminal justice system," said Maddy deLone, executive director of the Innocence Project. "We are honored to have him as our first-ever Innocence Ambassador Advisor and look forward to engaging him in our continuing work to build a cadre of engaged, high-profile champions for innocence."
"I am honored to be working with my heroes at the Innocence Project in my new role," said Dubin. "I look forward to collaborating with my colleagues to create more opportunities for our amazing Ambassadors that continue to raise awareness about the various criminal justice reform initiatives underway at the Innocence Project as well as engage communities across the country in contributing to the cause of freeing the innocent."
The Innocence Project's list of ambassadors is a veritable who's who of the world of actors, authors, musicians, and activists, including Stephen Colbert, Susan Sarandon, John Grisham, Chris Martin, and Zoey Deschanel to name a few (below is a link to the complete list of Ambassadors).
https://www.innocenceproject.org/disciplines/innocence-ambassadors/#