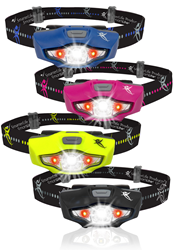 We are very appreciate of Ezvid Wiki's selection of the SmarterLife Products SmartLite Ultra LED Headlamp - for the third year - as a result of their broad ranging, impartial assessment of thousands of headlamp options available to consumers.
STEAMBOAT SPRINGS, Colo. (PRWEB) April 23, 2018
SmarterLife Products® LLC has announced that Ezvid Wiki has selected the SmartLite Ultra LED Headlamp as the best mid-range headlamp and among the 9 best headlamps overall in its evaluation of the best headlamps of 2018.
This is the third consecutive year in which SmarterLife Products has been honored with this designation by Ezvid Wiki.
Compiled with twenty-two hours of research, this video wiki guide, newly published in the tools category, is a broad ranging, impartial assessment of headlamp options available to consumers in the United States.
Founded in 2011, Ezvid Wiki was the world's first video wiki, and is now among the top 4,000 websites in the United States and reports millions of visitors every month. Ezvid Wiki's YouTube channel has over 100,000 subscribers, and has informed over $85 million in purchasing decisions to date.
The SmarterLife Products SmartLite Ultra Headlamp is available for purchase on the Amazon Marketplace.
Co-founder, Tim DePuy, stated "The SmarterLife Products® SmartLite Ultra LED Headlamp is the result of hours of research into this deceptively simple piece of lighting equipment. As outdoor enthusiasts, we wanted a headlamp that was the very bright one you forgot you were wearing due to its compact size and feather-light weight. We also wanted a lamp that was easy & comfortable to wear, and simple to operate so that every day indoor use would be practical. Weighing in at 1.5 ounces and 115 lumens, this headlamp is the brightest and lightest headlamp available anywhere. We are very appreciative of Ezvid Wiki's selection of the SmartLite Ultra LED Headlamp as a result of their recent study and evaluation of thousands of headlamp offerings."
Based in Steamboat Springs, CO, SmarterLife Products® sources or creates the very best eco-friendly fitness and lifestyle products for people who want to live smarter. The company was started when co-founders Jan & Tim DePuy realized that it was hard to find purposefully-made items that were good for people and good for the environment. While available in the marketplace, no one had brought them together into one place, which was the impetus for the creation of the company.