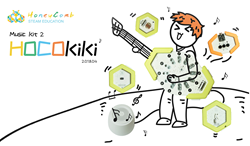 We aim to bring children into a new world with unlimited possibilities and encourage them to enjoy all these fun building blocks.
ATLANTA (PRWEB) April 09, 2018
HoneyComb, an innovative set of smart electronic building blocks, is designed for people with no engineering background. HoneyComb helps young people in K-12 STEAM education (problem-based learning using science, technology, engineering, art, and mathematics principles) produce interactive and creative work. The product will be on display at the ITEEA stage for professional educators in technology and creative design on April 12, 2018, in Atlanta, GA.
After successfully making our very first move in March 2016 with the launch of HoneyComb, the project team quickly grew and consistently upgraded our models to produce breakthroughs and to share our technological achievement worldwide.
The three core product kits, HoneyComb Basic, HoneyComb Music, and HoneyComb Queen, target an age range from 5-12 and above, respectively. The kits offer various options for different age groups, aiming to satisfy each target segment's needs and focus in developing STEAM education.
At this time, HoneyComb enters a new stage with the launch of the HoneyComb Music II, named Hocokiki. Hocokiki has extended its user experience, allowing users to effortlessly switch among three voice modes, including instrumental, freestyle, and world tour mode, and to enjoy different interactive musical play experiences. While maintaining the instrumental model benchmark of the last generation's Music Kit, HoneyComb tries to optimize its user experience by guiding children to explore more sounds and easily combine three modules to make a different sound. The increasing flexibility and possibility of customizing music allows children to develop their creativity.
In its upgrade to Hocokiki, HoneyComb has taken a revolutionary step to expand the product functionality by offering a programming feature, supporting up to 128 types of musical instruments. The innovative part of Hocokiki is that it is a highly sensitive instrument when connected to a child's fingertips. Just one simple touch will transfer an electric current to any conductive material to form a musical loop that will stimulate a child's logical and critical thinking.
"We aim to bring children into a new world with unlimited possibilities and encourage them to enjoy all these fun building blocks," said Robi Wang, the co-founder and Project Manager of HoneyComb. "Ultimately, HoneyComb will become an avant-garde resource for STEAM educators and young learners to utilize on their way to explore endless ideation."
The ITEEA Annual Conference is the best-known venue for gathering inspirational human innovation globally, and HoneyComb is glad to be part of it and to share its originality and vision with the world.
"We really look forward to communicating our inspiration and vision and delivering it to the right people at the ITEEA Annual Conference. We know that ITEEA is the perfect place to showcase our contribution and support the future of STEAM, and HoneyComb is glad to be one of its stand-out innovators," said Kent Zhang, Chief Mechanical Designer of HoneyComb.
HoneyComb will have a display in Booth No.10 at the 80th ITEEA Annual Conference at the Westin Peachtree Plaza in Atlanta. We look forward to meeting everyone on April 12th.
To learn more about HoneyComb, please visit HoneyComb's official website http://www.HoneyCombkits.com or visit us at Booth No.10 at the ITEEA conference. For more information on the 80th ITEEA Annual Conference, please visit https://www.iteea.org/