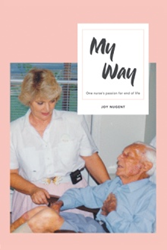 ADELAIDE, Australia (PRWEB) April 09, 2018
As a nurse, Joy Nugent observed people who have a sense of peace and completion as they faced the end of their life especially those who were dying by old age rather than because of a specific illness. Her observation of these people inspired Nugent to write "My Way: One Nurse's Passion for End of Life" (published by Balboa Press AU).
The book shares not only Nugent's personal history but also her model for end-of-life nursing. Her career and education spanned many countries, from her home in Adelaide, Australia, to Canada, the United States, the United Kingdom, India, Singapore and Malaysia. She encourages nurses to follow in her footsteps, urging them to become midwives of the soul and to take charge of their own professional lives.
Throughout the book, Nugent details her life experiences, travels and offers recommendations on the attitude, knowledge and skills essential for building trusting patient-nurse relationships. Although she has had to face many challenges and struggles along the way, she acknowledges that her life has been divinely guided.
"I would like readers to take away from my writing an enthusiasm for life and living with an appreciation of karma - the consequences of the choices one makes," Nugent says. "The soul is the part of us that does not die and needs consideration along with keeping the physical body comfortable. Soul care is the essence of end of life care. People in aged care facilities need to be taught how to die - just as a mother is taught how to bring a soul into the world those health professionals working in end of life care need to assist in the soul's onward journey. The soul does not have a religion but it is nourished by care that is loving and assists in a person reflecting on their time in this lifetime - eg the lessons learned, compassion for others and acts for forgiveness for shortcomings. The soul is saying farewell to the body, which is no longer needed. Medical concerns focus on the body rather than the soul. This needs to change!"
"My Way: One Nurse's Passion for End of Life" recalls one nurse's personal and professional life, provides guidance for others in gaining the confidence to die without fear, and advises those comforting them at the bedside.
"My Way: One Nurse's Passion for End of Life"
By Joy Nugent
Softcover | 6 x 9in | 168 pages | ISBN 9781504311991
E-Book | 168 pages | ISBN 9781504312004
Available at Amazon and Barnes & Noble
About the Author
Joy Nugent received training in nursing and midwifery in Australia and Scotland and worked as a nurse in Toronto, Canada, and in London, England, over the course of her career. She founded NurseLink Foundation, a nonprofit public company with charitable status, and is also the author of "New Nursing" and "As Good as Goodbyes Get." She currently lives in Adelaide, South Australia. Visit https://vimeo.com/239876552.