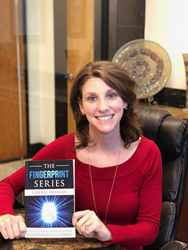 The way you explain the truths of God's Word in an easy to understand way it has really opened me eyes to who God is! Bonnie Wilson
LOS ANGELES (PRWEB) April 09, 2018
Cherie Shields could not have imagined that a Bible Study in her newly-wed home could end up becoming a Millennial book and a Millennial movement called Legacy YP that evolved into a book.
"In The Fingerprint Series my goal is to bring faith into a down to Earth perspective, to work through the common frustrations seekers have like why prayer is hard, how do I be with God, and why don't I understand the Bible? I found Jesus later in life. I mean I knew about Jesus but never had a real relationship with Him until my college years. I think teens and Millennials are naturally skeptical about God and faith because they've seen so much hypocrisy. But what I began to realize as I read the Bible for myself, it really was God speaking directly to me. I wanted to capture, in a book, the process of understanding God in his Word, the Bible.The Fingerprint Series grew out of a hunger to know God, get past the hang-ups of religion and get connected to Jesus personally," says Shields.
From the book:
"Faith is complicated. People build themselves the perception that it's easy and simple but it's not. I spent years thinking that I needed to do x, y, z to make my faith flourish, when the truth is…it's my relationship. God designed me with a 100% unique fingerprint, so my relationship with him should be 100% unique. That is where I began thinking about what my relationship in God should look like."
Early feedback for The Fingerprint Series has been very encouraging with Church Leaders, Bible Study Groups and Congregations asking when it will be available.
Comments from readers and friends have been:
"Cherie I love The Fingerprint Series, I cannot put it down. The way you explain the truths of God's Word in an easy to understand way it has really opened me eyes to who God is!" Bonnie Wilson
"I thought God was just something TV preacher's used to raise money on TV, But Cherie's book helped me understand God is real, loves me and has a plan for my life." Thomas Hart
"I began blogging a few years ago and it became an outlet for me to share what we were learning in our Bible study and what I was learning in my own life. All I had originally was a stack of notes that I was making during my quite times with God. I had my Bible open and my pen and notebook out," Mrs. Shields remarks.
Those notes turned into a book and The Finger Print series will be a featured staple in the Beyond Publishing catalog in the Faith Based Books section. "We are really excited about The Fingerprint Series and the work Cherie is doing to touch Millennials." We are taking her books to New York City to be featured at Book Expo America/Book Con in May and to Frankfurt, Germany for the World Book Show in October.
To say thanks to her many fans Cherie is offering the ebook on Amazon for $0.99 cents for a limited time as her way of saying thanks for all of the support for her book launch. The print version is available everywhere books are sold and can be ordered through Amazon, Barnes and Noble, Books A Million and anywhere you buy books. "Customers can go into any bookstore anywhere in the world and ask for The Fingerprint Series and the store can order directly from our distributor," says Michael D. Butler, CEO of Beyond Publishing. The print book will officially begin delivery on Tuesday April the 10th.
About the Author
Born and raised in Orange Country California, the fast-paced culture around you pulls you in many different directions. Teaching me quickly from a young age to either decide what I wanted to stand for or have it dictated by everyone else. I have been blessed to see the foundation of Christ strong in my family all the way back to my great grandma. Watching these role models teach me about being filled with the Spirit, fighting in the spiritual realm, and leaning on God's wisdom have pushed me to not just believe, but to understand why I believe.
Author Cherie Shields Facebook