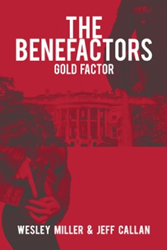 CARROLLTON, Texas (PRWEB) April 09, 2018
Wesley Miller and Jeff Callan take readers on a thrilling adventure across two timelines with the release of "The Benefactors: Gold Factor" (published by iUniverse in November of 2014). The book tells the tale of brazen will, the fruits of unbridled power and the inevitable pull to corrupt even the best of men.
"The Benefactors: Gold Factor" deals with the rise of the World War II-era Office of Special Services (OSS), a precursor to today's CIA, told through the eyes of three men, based on actual events. Wrapped around this historical retelling is a fictional suspense thriller set in the modern day that follows the lives of four powerful women entangled in a plot to assassinate a modern-day president.
"This is a new and different take on the suspense thriller. The historical elements bring realism to the story. By adding a modern-day political thriller and 'who done it' to the story, we have provided a fictional future and set of engaging characters to hook the reader and provide a path for future novels as the two timelines converge and eventually connect," the authors share. "We want the reader to be engaged, educated, and most importantly, entertained."
Reviews for "The Benefactors: Gold Factor":
"I was intrigued by the mixing of actual historical figures with fictional characters. I was also impressed by how the historical figures interacted with the fictional ones. Of course, what made the story even more palatable was the integration of actual historical events with the story line that affected its main characters. Plus, you got the history right!" – Dr. W. Martin Dulaney, Chair and Associate Professor of History, University of Texas Arlington
"Overall, this is a strong piece with compelling action and an energetic take on the genre. I think this absolutely belongs with the Bourne series, and this one has several strong female characters who are their own agents and who affect the story." – Belea Keeney, award-winning author and editor of "The Benefactors: Gold Factor"
"The Benefactors: Gold Factor"
By Wesley Miller and Jeff Callan
Hardcover | 6 x 9in | 402 pages | ISBN 9781491748671
Softcover | 6 x 9in | 402 pages | ISBN 9781491748688
E-Book | 402 pages | ISBN 9781491748664
Available at Amazon and Barnes & Noble
About the Authors
Wesley Miller is the author of "Pigeons, Penguins, Post Turtles." He lives with his wife of 24-plus years and his four daughters. He is a U.S. Navy veteran and successful health industry executive.
Jeff Callan is a writer, information technology professional and self-described conspiracy theorist. A native of New England, he now lives in Gilbert, Arizona, with his wife, three children and pets.
Readers can reach the authors at http://www.thebenefactors.net.