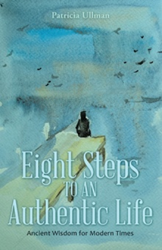 NORTH BETHESDA, Md. (PRWEB) April 09, 2018
In Patricia Ullman's debut body, mind, and spirit book, "Eight Steps to an Authentic Life: Ancient Wisdom for Modern Times" (published by Archway Publishing), Ullman relates the eight aspects of the Buddhist Noble Eightfold Path, an ancient teaching that was first articulated by the historical Buddha nearly 2,500 years ago.
The book is intended to give an accessible introduction to an ancient teaching about how to live an authentic, intentional and ethical life – the Buddhist Noble Eightfold Path. Each chapter describes one aspect of the path and provides a mindfulness-related meditation practice to help connect it with individual experience and understanding. The eight aspects cover all of life experience, including deeply-held views, intentions, how one communicates, one's actions and livelihoods, and how one understand the nature of one's own mind and mental processes. Through mindfulness meditation and other related practices, Ullman believes one can cultivate greater awareness of all of these and lead more intentional and wakeful lives.
"My hope is that readers will feel personally touched and inspired to use the teachings and practices in this book to uplift their own lives," Ullman says. "I want this to be a handbook that will help them access the wisdom in these teachings and in themselves and to feel its relevance and accessibility."
"Eight Steps to an Authentic Life"
By Patricia Ullman
Hardcover | 5.5 x 8.5 in | 110 pages | ISBN 9781480856608
Softcover | 5.5 x 8.5 in | 110 pages | ISBN 9781480856615
E-Book | 110 pages | ISBN 9781480856622
Available at Amazon and Barnes & Noble
About the Author
Patricia Ullman, a senior teacher and meditation instructor in the Tibetan Buddhist and Shambhala traditions, studied and practiced for more than 40 years with many renowned teachers. She earned a Juris Doctor and has spent her professional life in law, mediation, restorative justice and nonprofit leadership. Ullman lives in the Washington, D.C., area and is a meditation instructor and consultant for mindfulness organizations, law firms, hospitals and private clients.