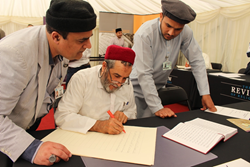 We are pleased to be able to collaborate with Razwan Baig, one of the largest private collectors of Islamic art in the UK, to bring this historic project to the London Book Fair 2018
LONDON (PRWEB UK) 9 April 2018
London Book Fair is to showcase a unique project – the first of its kind in the world – recreating the ancient tradition of writing the Holy Quran by hand.
The 'Al-Qalam Project' run under the auspices of the Ahmadiyya Muslim Community invites contributors to write out a verse of the Islamic text for inclusion in a final compilation.
Founded by calligrapher and collector Razwan Baig and officially launched by the Worldwide Head of the Ahmadiyya Muslim Community, His Holiness, Hazrat Mirza Masroor Ahmad in 2016, contributions have come from across the globe.
The London Book Fair at the Olympia Exhibition Centre, Kensington, from 10-12 April will provide a showcase towards the conclusion of this milestone project.
Amer Safir, Chief Editor & Manager of the Ahmadiyya Muslim Community's official monthly magazine The Review of Religions, said:
"We are pleased to be able to collaborate with Razwan Baig, one of the largest private collectors of Islamic art in the UK, to bring this historic project to the London Book Fair 2018. The unique Al-Qalam project has landed in London after numerous global tours.
"The concept is rather simple - each contributor writes out a verse from the Holy Quran by hand until the entire Quran is fully handwritten. The Al-Qalam has proven to be an incredibly influential initiative, demonstrated through uniting each and every participant of this project, irrespective of belief. Hence for all three days of the fair, anyone can feel free to contribute towards the finalisation of this project."
At the book fair, Islam International Publications (IIP) will be showcasing the most revered book by Muslims, along with a plethora of historical books published by the IIP addressing all kinds of topics around the spectrum of religion, politics, economics and more. For those unfamiliar with Arabic, the IIP has also printed translations of the Holy Qur'an into 74 different languages (including commentary) in addition to Braille.
The London Book Fair is recognised as the global marketplace for rights negotiation and the sale and distribution of content across print, audio, TV and digital channels, welcoming more than 25,000 publishing professionals annually. Readers and exhibitors will exclusively have the chance to interact, learn and discover about new and upcoming content on all platforms.
The Al-Qalam stand is at 7G42 and Quran in the 21st Century is exhibited at 6G10. Both will be showcased at the Buzz Theatre for a 30-minute slot on Tuesday 10th April at 10am.
For further information, contact Basharat Nazir on 07703483384 media@ahmadiyya.org.uk or Bilal Mahmood 07845593683. http://www.islaminternationalpublications.com http://www.reviewofreligions.org @AhmadiyyaUK @ReviewReligions @True_IslamUK