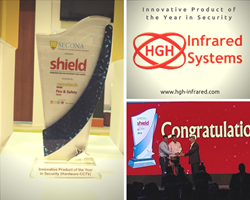 « We are very pleased to receive the world-reknowned Indian Security & Safety industry SECONA Shield Award. The V-LRF option proves that for HGH, innovation is more than ever on the agenda ! » Thierry Campos, CEO
IGNY, France (PRWEB) April 11, 2018
The electro-optics experts HGH Infrared Systems won the SHIELD 2018 award for the first time last Friday, at the NSE Complex in Mumbai. The company, well known for its 360° thermal sensors « Spynel », was awarded the « Innovative Product of the year - Hardware CCTV » for its brand new V-LRF option for Spynel-X: a major technological advance that helps improve the recognition phase when a threat is detected.
The V-LRF option consists in adding a Visible channel and a Laser Range Finder to the Spynel-X or Spynel-S thermal sensors. Spynel-X was already the InfraRed Search & Track (IRST) with the best image resolution and the longest detection range on the market. This unrivalled technology can now be improved with a full HD Visible Channel and its x30 continuous optical zoom. With the Laser Range Finder, accurate distance data is provided in real-time, while tracking multiple targets over a very wide area, night and day.
Thierry Campos, HGH Infrared Systems' CEO, said : « We are very pleased to receive the world-reknowned Indian Security & Safety industry SECONA Shield Award. The V-LRF option proves that for HGH, innovation is more than ever on the agenda ! »
The company is very active in India, with offices in Bengaluru, and will showcase Spynel V-LRF at Defexpo (Chennai, India) this week, stand 322D.
More about HGH Infrared Systems:
Founded in 1982, HGH Infrared Systems designs, develops, assembles and sells electro-optics systems for civil, defense and security applications. In 30 years of existence, HGH has established itself as an international reference in terms of innovation in infrared technology, through the development of multiple advanced sensors.
More about the SECONA Shield 2018 Awards :
http://secona.org/shield-awards-2018/shield-2018-finalists/