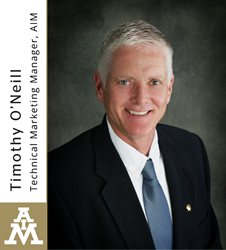 CRANSTON, R.I. (PRWEB) April 09, 2018
AIM Solder, a leading global manufacturer of solder assembly materials for the electronics industry, is pleased to announce that Timothy O'Neill, Technical Marketing Manager, will lead a discussion about the evolution of lead-free solder alloys at the SMTA Huntsville meeting taking place April 17th, 2018 at STI Electronics in Madison, AL.
Mr. O'Neill will offer his insight on the rapidly expanding choices for solder alloys as new application requirements materialize revealing the limitations of existing lead-free alloys. In this presentation, attendees will gain a better understanding of the evolution of lead-free solder alloys, the limitations of today's common alloys and what the solder industry is offering as next generation materials. Mr. O'Neill's presentation will be offered from 6:30 PM – 7:15 PM on the day of the meeting.
About Timothy O'Neill
Timothy O'Neill is the Technical Marketing Manager for AIM Solder. With nearly 25 years of experience in electronics soldering, Mr. O'Neill has co-authored several papers on PCB assembly subjects. He is a Certified IPC Specialist, a technical writer and presenter for industry trade publications and events. His commitment and dedication to sharing innovative solutions to challenging problems in the electronics assembly market have earned him recognition from the SMTA as Speaker of Distinction.
About AIM
Headquartered in Montreal, Canada, AIM Solder is a leading global manufacturer of assembly materials for the electronics industry with manufacturing, distribution and support facilities located throughout the world. AIM produces advanced solder products such as solder paste, liquid flux, cored wire, bar solder, epoxies, lead-free and halogen-free solder products, preforms, and specialty alloys such as indium and gold for a broad range of industries. A recipient of many prestigious SMT industry awards, AIM is strongly committed to innovative research and development of product and process improvement as well as providing customers with superior technical support, service and training. For more information about AIM, visit http://www.aimsolder.com.
Upcoming Events:
April 10, 2018 – SMTA Dallas – Plano Centre, Plano, TX
April 24, 2018 - SMTA Empire – Holiday Inn Syracuse, Liverpool, NY
May 8, 2018 – SMTA Wisconsin Expo – Milwaukee Crowne Plaza, Milwaukee, WI
May 15, 2018 – SMTA Carolinas – DoubleTree Raleigh Brownstone, Raleigh, NC