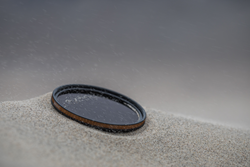 "Our new QuartzLine Filters are a rugged camera filter for DSLRs, mirrorless and cinema cameras designed to meet our obsession over image quality." - Austen Butler, Co-Founder, PolarPro
COSTA MESA, C.A. (PRWEB) April 09, 2018
PolarPro, developer of products inspired by adventure, announced today it is expanding its line of lens filters to professional photography and cinematography cameras. Well known for its industry-leading action camera and drone filters, PolarPro is continuing its tradition of quality with the new professional-focused QuartzLine Camera Filters for DSLRs, mirrorless and cinema cameras. The QuartzLine Filters range from $59.99 to $249.99 depending on size and filter style, for more information and specific pricing on the new PolarPro QuartzLine Lens Filters, please visit: https://www.polarprofilters.com/products/quartzline-filters.
Constructed of 99.9% pure fused quartz, the QuartzLine Filters set a new bar for light transmission and purity as the rare, fused quartz element delivers an extremely low refractive index compared to traditional filters. A new optical coating method reduces surface reflectivity to less than one percent and increases surface hardness, all while maintaining a perfectly neutral color profile. The QuartzLine Filters will offer circular threaded UV, polarizers and neutral density filters from ND8 to ND100K, as well as hybrid single element ND/polarizing lens filters ranging from ND4/PL to ND1000/PL. With the filters running from 37mm, 46mm, 67mm, 72mm and 82mm, and an optional assortment of step-up rings, these stunning new optics will help adventure seeking creators capture perfection. All QuartzLine Filters can also be paired with PolarPro's rugged construction Kanga Camera Filter Case to ensure they can go anywhere.
"As we have worked to establish PolarPro as the preferred option for drone cinematographers, we've also been working behind the scenes to make the QuartzLine Filters into an extremely precise and consistent filter for professional photo and video creators," said Austen Butler, Co-Founder of PolarPro. "With QuartzLine, we wanted to create a rugged camera filter in line with our obsession over image quality. After testing 29 different materials we landed on a fused quartz glass element, with hyper neutral coatings to reduce reflectivity, increase scratch resistance, and most importantly, delivery a consistently neutral color profile."
Ideal for professional photographers and cinematographers looking to ensure the most accurate representations of their creative vision, the QuartzLine Camera Filters combine PolarPro's Death Valley-tested precision coatings with some of the most premium materials available.
Fused Quartz Glass
At 99.9% pure, fused quartz is one of the purest glasses available. It's this purity that allows the QuartzLine Filters to be extremely durable while delivering stunning optics and optimal clarity. The fused quartz glass also helps to ensure QuartzLine Filters have an extremely low refractive index of only 1.46 giving the filters increased stability and temperature resistance (from -50F up to 130F), so content creators can bring the true-life colors to their final product from the most extreme locations on the planet.
Color and Image Accuracy
Light transmission in the QuartzLine Filters is perfectly neutral from the UV spectrum all the way across the IR spectrum, which gives photographers and cinematographers the confidence to stretch the boundaries of their creative vision while ensuring color and image accuracy. Unique among filter manufacturers, PolarPro leverages its new advanced coating technologies to eliminate any color cast or color inconsistency throughout the spectrum. The single-element QuartzLine Filters are available in a wide array of ND and ND/PL filters so photographers or cinematographers do not have to stack glass to achieve the desired effect, while also allowing wide-angle shots without fear of vignetting.
Precision Coatings
The QuartzLine Filters rely on PolarPro's advanced coating technologies to eliminate color shift, reduce flaring and ghosting, and to increase surface hardness for the already-durable fused quartz glass. Unlike other filters on the market, QuartzLine receives advanced coatings to eliminate color-casting or inconsistencies throughout the color spectrum. Each of the QuartzLine Filters feature:

Neutral Density Coating – Precisely applied to reduce the desired light transmission without incurring color shifts, PolarPro's ND coatings have been tested in the most demanding conditions possible from the workshop test bench to sun-blasted skies around the world.
Anti-Reflective Coating – Reducing the reflectivity of the lens filter eliminates hot spots in the frame, and PolarPro's coating technology allows the 3.45% native reflectivity of the fused quartz to be reduced to a negligible 0.455%.
Anti-Scratch Coating – Protecting the coatings and base glass while hardening the filters surface, PolarPro's anti-scratch coating has stood up to the demands of the most adventurous downhill thrashings possible.
Hydrophobic Coating – Increasing surface hardness, while making for easy cleaning and water resistance, PolarPro's hydroscopic coating provides the external layer on the QuartzLine Filters.
Durable Brass Frames
The durable four-part frame which houses each QuartzLine Filter has been over-engineered to ensure it threads onto each lens perfectly. Wanting to use the absolute best materials possible, PolarPro eschewed the traditional aluminum frames in favor of the more durable, yet lightweight, brass frames. With the unique production demands of professional photographers and videographers in mind, the QuartzLine showcases the brass exterior portion of the frame while the interior is coated in a matte back to prevent unwanted reflections.
Comprehensive Product Range
The QuartzLine Filters will be available for a wide array of lens sizes and a series of optional step-up rings will allow QuartzLine to accommodate most professional lenses. The range of UV, circular polarizing filters, traditional neutral density and hybrid neutral density/polarizing filters is detailed in brief below, or on the QuartzLine product page, here: https://www.polarprofilters.com/products/quartzline-filters
Filter Thread Sizes: 37mm, 46mm, 67mm, 77mm, 82mm
Filter Options: UV, CP, ND8, ND8/PL, ND16, ND16/PL, ND64, ND64/PL, ND1000, ND1000/PL, ND100000
Step-up Ring Options: Step 52mm, 55mm and 58mm lens to 67mm filter ~ Step 62mm, 67mm and 72mm to a 77mm filter ~ Step 62mm, 67mm, 72mm and 77mm lens to an 82mm filter
PolarPro Kanga Camera Filter Cases: Available in 3-filter or 6-filter storage sizes, the PolarPro Kanga Camera Filter Case features a magnetic opening for quick and easy filter access, plush microfiber interior lining, and a pull-tab system for streamlined filter selection. The PolarPro Kanga Cases retail for $39.99 and can be purchased here: https://www.polarprofilters.com/products/kanga-camera-filter-case
For more information about the new PolarPro QuartzLine Camera Filters, retail availability and pricing, please visit: https://www.polarprofilters.com/products/quartzline-filters.
About PolarPro
Founded on the simple mission to design products that inspire people to get out and explore the world, PolarPro designs by adventure, for adventure. With headquarters in Costa Mesa, CA, its team of adventure seeking photographers and cinematographers aim to develop products inspired by real experiences that solve real problems. Since launching its flagship action camera filters in 2011, PolarPro has realized steady growth with a diverse product catalog for urban and off-grid adventurers alike. For more information on PolarPro, please visit http://polarpro.com, or follow the brand on Facebook, Instagram, Twitter, and YouTube.
Media Contact:
Zach Heath
zach(at)engagecoms(dot)com
(401) 559-7350