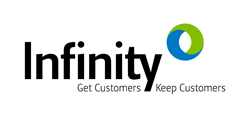 "Infinity is more than your typical sales team. They are a true partner who works with their clients to develop a strategy that delivers results."
CHICAGO (PRWEB) April 09, 2018
On Wednesday, April 4th, the American Association of Inside Sales Professionals recognized Infinity during the AA-ISP Leadership Summit 2018. Infinity was named Service Provider of the Year, and Infinity CEO and Founder Thomas Leidigh was recognized as one of the TOP 25 Industry Influencers.
"Infinity is honored to have been recognized with these prestigious awards," says Leidigh. "We believe in fighting the status quo to drive performance and revenue in inside sales. These awards are a testament to that effort."
Service Provider of the Year
The Service Provider of the Year award recognizes companies for providing high-performance service to clients in the inside sales community.
In reviews and ratings, clients noted Infinity's ability to build and optimize teams inside sales and service teams that exceed expectations:
"Infinity is more than your typical sales team. They are a true partner who works with their clients to develop a strategy that delivers results."
"It is an honor to recognize Infinity as Service Provider of the year!" stated Bob Perkins, AAISP Founder and Chairman. "Infinity has proven their dedication to performance and excellence in the inside sales industry, which is the mission of the AA-ISP."
TOP 25 Influencer
Infinity CEO Tom Leidigh was named as one of the TOP 25 Most Influential Sales Professionals, which recognizes thought leaders who have a positive influence on individuals and the inside sales industry.
Over the course of 2017, Leidigh has implemented new strategies and systems to improve the revenue system creating a New 100%. He is a "student" of inside sales and maintains on-going learning, sharing, and teaching and is an advocate for advancing the profession of Inside sales.
"We applaud Tom Leidigh and thank him for his service to our growing profession and community of inside sales representatives, leaders, and solution providers," stated Perkins.
About Infinity, Inc.
Infinity is an award-winning inside sales and service agency that partners with companies to Get Customers and Keep Customers. We take a strategic, data-driven, consultative approach to build high-performance programs that go beyond current revenue targets and achieve a New 100% revenue goal.
More at http://infinitydelivers.com
About American Association of Inside Sales Professionals
The AA-ISP, the global Inside Sales association and our industry's most trusted and respected resource for everything Inside Sales, is dedicated exclusively to advancing the profession of Inside Sales. The association engages in research studies, organizational benchmarking, and leadership roundtables to better understand and analyze the trends, challenges, and key components of the growth and development of the Inside Sales industry. Our mission is to help Inside Sales representatives and leaders to leverage our information and resources through published content, local community Chapters, global conferences, career development, and an Inside Sales Accreditation program
More at https://www.aa-isp.org/
To see a full list of the winners, go to:https://www.aa-isp.org/annual-awards