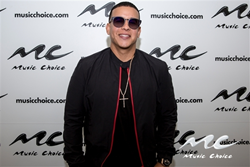 New York, NY (PRWEB) April 09, 2018
Music Choice today announced Daddy Yankee as its next artist to be featured in its Artist of the Month series. The program kicks off today with exclusive interviews with the Latin Superstar that will be featured in a special category On Demand (Directional: Music Choice>Artist of the Month). Daddy Yankee's entire catalog of music videos and audio tracks will be featured throughout the month of April across Music Choice Music Channels, On Demand and on our app. Daddy Yankee is the #1 Latin Performer of all time on Music Choice On Demand.
The Music Choice Musica Urbana Music and Video Channels will host a special Daddy Yankee Weekend April 13-15th playing his catalog and current hits all weekend long.
Get Music Choice on all your devices, and find out more at app.musicchoice.com